The BMW F30 is the pinnacle of sporty sedans but it also features a sleek, refined look that can make this BMW look a bit too mundane and boring sometimes. To truly emphasize the high-performance aspect, there are several aftermarket additions for your vehicle, such as a rear carbon fiber spoiler.
A carbon fiber spoiler will truly improve the visual appeal of your F30. These can look great as a sole upgrade or with various other aftermarket add-ons, such as carbon-fiber side-view mirror caps, side skirts, front and rear bumpers, etc. We've outlined four fantastic carbon fiber spoiler options for BMW F30 models, as well as a quick installation guide, take a look:
Top 4 Carbon Fiber Spoilers for BMW F30 3 Series
Some aftermarket spoilers are drilled onto vehicles to stay firmly in place. While this offers a secure and firm fit, you'll have permanent holes in your trunk. This means if you want to restore factory looks – you may have to replace the entire trunk, which can be very pricey.
None of the four following spoilers are drilled onto the vehicle's trunk. They all use adhesive tape that will keep them firmly and securely on your trunk, regardless of the weather conditions. Removing the spoiler at a later point is an easy process without causing any damage to your vehicle's paint or body,
Here are the top four carbon fiber spoilers for BMW F30 3 Series & BMW F80 M3:
Spoiler Compatibility
Spoilers listed here fit the BMW F30 3 Series Sedan & and BMW F80 M3, including M-sport and non M-sport cars of the following years:
2012-2018 BMW F30 3-Series Sedan Models
2013-2018 BMW F80 M3 Sedan Models
How to Install an F30 Trunk Spoiler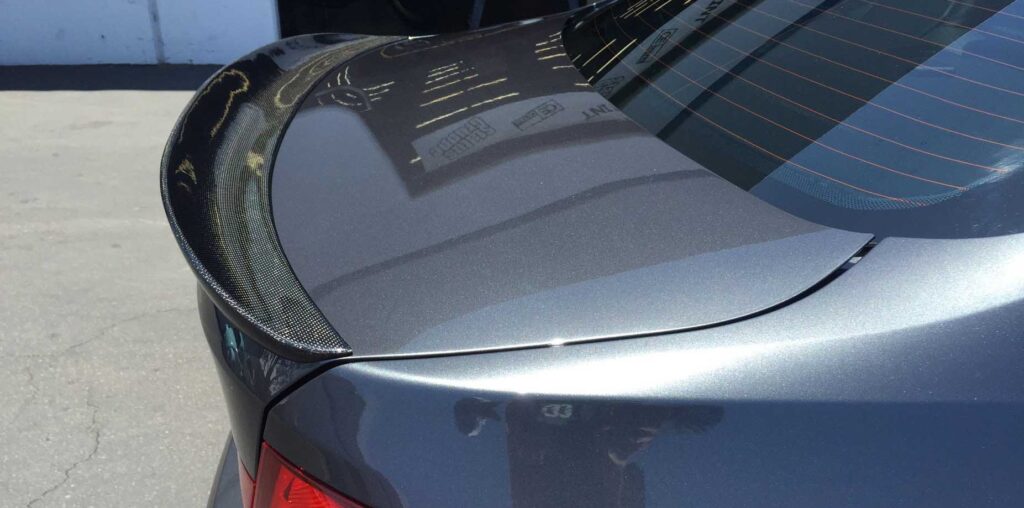 Installing an aftermarket trunk spoiler on your F30 3 Series is a straightforward process. It is a simple installation that can be done at home as it doesn't involve any drilling. Instead, double-sided tape is used to secure the spoiler to the vehicle.
Start by thoroughly cleaning the vehicle surface. Ideally, have the car washed first. In dry conditions (ideally inside a garage), use the provided wet wipes and microfiber cloth to clean the spoiler location.
Remove the adhesive protection from the supplied tape and carefully apply it to the car's surface. After the tape is in place, remove the adhesive protection from its other side.
Align the spoiler with the vehicle's body and press it firmly for a few minutes. Keeping a firm grip for a few minutes is essential to avoid any air bubbles forming, diminishing the close fit with the trunk.
Everything, from the microfiber cloth and wet wipes to the double-sided adhesive tape, is included in the package.
FAQ
1. What is the purpose of a spoiler?
Spoilers, carbon fiber or otherwise, are mostly used with aesthetics in mind. Along with front/rear bumpers, side skirts, and various other aftermarket improvements, they significantly enhance your BMW's sporty looks.
2. Would an F30 aftermarket spoiler offer any aerodynamic advantages?
Although aftermarket spoilers are aesthetic for the most part, they can also increase the down-force, especially at high speeds. As a car speeds up above usual highway speeds, stability can suffer due to insufficient downforce. Using a rear trunk lid spoiler can provide extra downforce for better grip on the road for a vehicle, ensuring more control when making turns and
Note that you won't feel a lot of difference at slow-to-mid speeds. However, a spoiler can provide slight improvement to your vehicle's grip at high speeds. Although this doesn't sound like much, the faster you go, the more every slight improvement counts.
3. Can a rear trunk spoiler affect fuel economy?
Various factors influence your vehicle's fuel consumption. One of the most notable factors that influence the fuel economy of a vehicle is its aerodynamic profile. Installing a spoiler impacts aerodynamics, it creates more downforce at the expense of aerodynamic efficiency. Due to the increase in air drag, fuel economy will be reduced slightly.
The spoilers listed here are very small so it's unlikely you'll notice any significant increase in fuel consumption. The slight increase in fuel consumption should definitely not deter you from installing a carbon fiber spoiler.
4. What are the spoilers made out of?
Spoilers on our list are made out of top-grade ABS plastic, lined with 3K carbon fiber weave for maximum durability and a lightweight build. A protective layer is added to prevent UV damage, which is coated and smoothed out with another layer for aesthetic purposes. This makes all spoilers that we've recommended here resilient, lightweight, and very aesthetically pleasing.
Closing thoughts
A rear spoiler is a great way of enhancing the looks of your BMW F30 and improve stability and grip at high speeds due to increased downforce. They are also very straightforward to install and feature everything you need for the installation inside the package. The included double-sided tape makes installation an easy process. No need to visit a body shop to get it done – you can do this on your own.