Most carbon fiber mirror caps draw inspiration from the M Series BMW models and offer a more aggressive look that doesn't go overboard. Repainting your BMW, adding spoilers and side skirts, and installing grills are all substantial changes to the vehicle's appearance.
If you aren't looking for a big accessory but still wish to add a subtle upgrade to your 3 Series, 4 Series, and 2 Series, carbon fiber mirror caps are an excellent mod easily done in your own garage.
There are two different mirror cover types on the car market – thin layers that stick to the original caps, and a complete cap replacement. The three models here are the latter type, which is more durable and doesn't add up on extra bulk. Of course, all three involve completely removing the original covers; the carbon fiber ones seamlessly clip onto the mounting points.
Carbon Fiber Mirror Covers for BMW F30 3 Series, F32 4 Series & F20 2 Series
1. Carbon Fiber M-style Mirror Caps for BMW 3 Series, 4 Series, 2 Series
Quick Overview
M-style shape mirror caps
Precision ABS wrapped with real 3K carbon fiber
Durable construction to withstand constant sun exposure
Glossy finish that accentuates the carbon fiber finish
These glossy carbon fiber mirror caps are very resilient due to the ABS construction while still boasting a low weight and stylish design. This is particularly important for prolonged sun exposure. The SNA caps are high-gloss and boast a notable carbon fiber look. They fit the original mirror caps mounting points and are easy-to-install. They will make your car look more aggressive, but aren't over the top.
If you wish to further upgrade the looks of your vehicle, LED sequential turn signals are also available for the F30/F32/F20 side view mirrors.
2. Side Mirror Carbon Fiber Caps for BMW F30 F32 F20
Quick Overview
Standard-shaped carbon fiber mirror caps
ABS plastic wrapped in 3K carbon fiber weave
Glossy finish
If you're looking for a straightforward carbon fiber appearance and feel, the Zealhot caps will more than do the trick. The Zealhots will bring out an aggressive yet sleek tone out of your vehicle's appearance, especially on lighter car finishes. They will blend with the overall car feel, elevating the style, luxury, and elegance departments on darker finishes. The carbon fiber housing here is very rugged and won't crack or warp easily. Zealhot has made this product with the same shape as the original BMW cap version.
3. BMW F30 F32 F20 Glossy Side Mirror Covers
Quick Overview
M-style aftermarket mirror caps
Made of non-recycled ABS plastic
Preserves factory look as much as possible
Adds a sporty touch on lighter colored cars
If you don't want the typical web-like carbon fiber appearance but are still looking for a light-weight, resilience, and heat-resistance qualities of the material type, the high-gloss ABS caps from SNA should fit the bill. This product is made from 100% raw plastic material and can withstand everything the sun throws at it. They are all black and sleek, which is a particularly aesthetically pleasing fit with darker vehicle colors. This is not to say that it won't work with brighter-colored models.
Vehicle Compatibility
The above carbon fiber mirror caps are compatible with BMW F30 3 Series from 2012 to 2018 (F30), BMW 4 Series from 2014 to 2020 (F32), BMW 2 series from 2011 to 2019 (F20).
While they could also work with a wider range of years, it is not guaranteed that the mounting points and the shape of the mirror are going to be the same.
How to Install Aftermarket Mirror Caps in BMW F30, F32, and F20.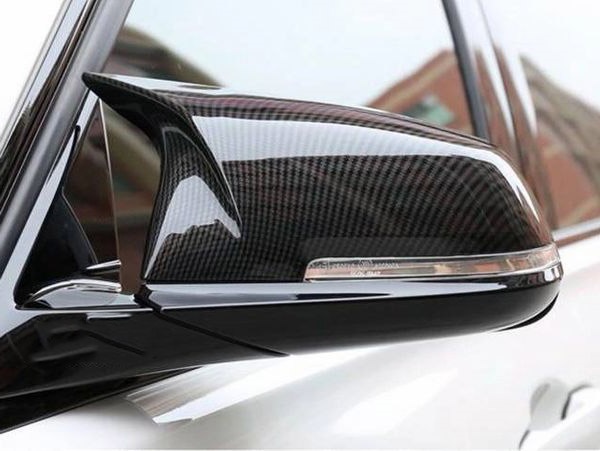 Aftermarket mirror cap installation isn't really what you'd call complex. However, seeing how the mirror is very much susceptible to breaking, you should opt for professional installation. If you are 100% confident that you can handle it on your own and are careful with the mirror part, here's how to do it.
1. Remove the side view mirror
A big mistake in this process would replacement is simply ripping the cap off. This isn't too hard to do but may break all clips, which will have you gluing all the tabs back on. This brings several issues to the table, such as the glue melting in warm conditions.
The first step of aftermarket mirror cap installation is removing the side-view mirror glass. Keep in mind that the glass is incredibly fragile. For starters, avoid performing this replacement in cold weather.
Start by tilting the glass all the way up. Stick a wide plastic trim tool below the mirror and gently pry it up. Once all the clips are popped open, stick your hand behind the mirror, applying equal pressure to its backside, and gently pop the mirror off.
2. Remove the factory mirror cap
Three pairs of clips hold the cap securely in place. Pinch each pair together to loosen the clips. You can use a small plastic trim tool to do this. Once the clips are loose, you should be able to remove the mirror cap without too much effort. If the cap won't come off, chances are the clips haven't been loosened properly – pull on it too hard, and you'll break the clips, which is definitely not something you want happening.
3. Install the new carbon fiber mirror cap
Take the new cap and align the pins with the three sets of holes on the mirror cap placement location. Then, put the cap back on and squeeze it together from all sides. You should hear popping sounds. Once you no longer hear any popping sounds, you can stop squeezing – the new cap is in place.
4. Re-attach the side view mirror
Align the mirror with the side-view mirror base. Keep in mind that the set position is angled upward, so you won't be going perfectly straight. Pop the top in first and then get the sides, followed by its bottom part. Make sure that you apply equal pressure to the mirror when popping it back into place to avoid damage.
Closing thoughts
Aftermarket mirror caps are an excellent mod to your BMW. If you are looking for a matching carbon fiber exterior accessory for your F30, there are a few carbon fiber spoiler alternatives to give your car a more agile look.
It is a process that can be done in your garage, but it is definitely recommended that you refer the job to the professionals, as you don't want to damage it and have to order a new side-view mirror glass – it is very brittle, and it cracks very easily.
As for the three mirror caps, choose the one that is the most aesthetically pleasing to you – they all offer quality builds and resilience.