Rear diffusers are fantastic upgrades for sport driving. Most BMW models look brilliant with aftermarket rear diffusers, and this includes the F30. Of course, you're going to be looking for a compatible model here – not just any model will fit your BMW F30.
In this entry, we've outlined four F30 models of rear diffusers. If you're looking to improve your car's outlook and performance, one of the following diffusers is sure to match your needs. In the article, we'll also discuss the four models' compatibility and installation.
Best Rear Diffusers for BMW F30 & F31
Compatibility
Unlike most aftermarket upgrades, rear diffusers are tailor-made for specific car models. The four diffusers outlined above are all F30-specific and particularly aimed at BMW F30 3 Series Sedan and BMW F31 Wagon models from the years 2012-2018.
Even more specifically, these diffusers will only fit M-Sport bumpers. If you have a standard bumper on your vehicle, you're going to have to replace it with the M-Sport one.
BMW F30/F31 Rear Diffuser Installation Process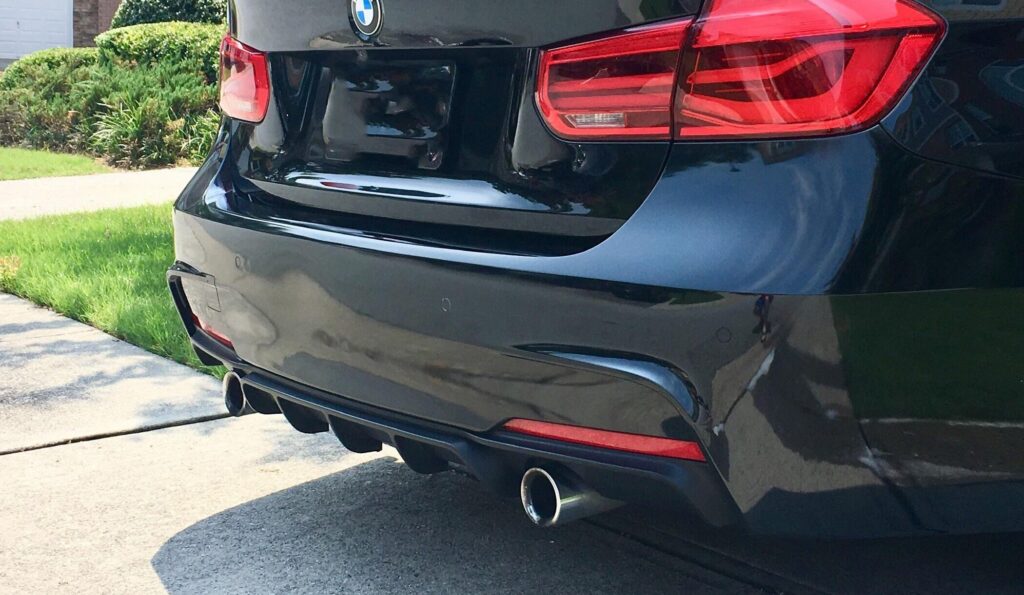 Most vehicle aftermarket upgrades are relatively straightforward, although it's always recommended that you take your BMW to the body shop and have experts install them. Rear diffusers are slightly more complicated. If you're well-versed in car modification, you may be able to perform a perfect installation, though. Here's how to install a rear diffuser on your BMW F30 M-Sport.
1. Remove bolts of factory diffuser
To swap out the original diffuser on your F30 BMW, you need to remove the 8mm bolts found underneath the diffuser – there are five bolts, two on each side and one at the center of the diffuser. This, however, won't completely loosen the old diffuser. There are clips on the top that keep the diffuser in place.
2. Remove the factory diffuser
Before moving on to removing the diffuser by unhooking the clips, make sure that your exhaust isn't hot to avoid burns. Start popping the clips out by pulling its upper side. Be careful not to damage anything on your vehicle and take your time.
3. Install the new aftermarket diffuser
Take the new diffuser and put it over the exhaust tips. There is a piece that you need to place in position accurately to make sure the diffuser is over the center part of the lower side of your bumper. Starting at the center, push the diffuser until you hear a click, indicating that its center part has attached to the clip. Then, work your way to either side until you've hooked it onto each clip. Repeat this on the other side. It's essential that every single clip is in place before moving on to putting the screws back in place.
Removing the reflectors isn't necessary, but it may make it easier for you to put on the new diffuser. Access the reflector clips from the clip-side of the diffusers and gently push them out. Put them back in by simply pushing them into place from the outside part of your vehicle.
4. Secure and re-install bolts
It's essential that the diffuser is completely in place before putting the screws back in place. Make sure that every clip is in place. Then, put the screws back into their original positions. They need to be firmly in place.
Frequently Asked Questions
Can I DIY install the F30 diffuser at home?
As mentioned earlier, it is always recommended that you visit a professional for some aftermarket upgrades. However, if you are confident, have the right tools, and have some experience working on cars, you can try installing the diffuser on your own – refer to the tutorial above and you'll see that it's fairly straightforward if you're handy.
You can install the rear diffuser onto your F30 at home and on your own. All you need is a socket set (for 8mm screws). Set aside about an hour for this job, even though it's likely going to take less time.
What is the purpose of a rear diffuser?
In addition to being aesthetic upgrades, rear diffusers will help increase your vehicle's downforce at high speeds. To understand the basics of it, we have to get into a little bit of physics here.
How does a rear diffuser work?
As you drive your car at moderate speeds, some air passes underneath the vehicle. As you drive faster, the pressure increases. However, the full potential of this pressure isn't utilized. With advanced factory diffusers, the air expands as it goes through the expansion chamber. This decreases the pressure underneath the vehicle. So, now you have high-pressure air moving above the vehicle, while the diffuser is sucking out the air from underneath the car, which creates a vacuum. This increases the down-force of your vehicle.
In other words, your vehicle is pressed downward, while the aerodynamic drag is reduced. This means better grip on the road, further enhancing your vehicle's handling and stability at moderate to high speeds.
Can diffusers improve grip and handling on the street?
It's very important to note that down-force starts impacting your car's performance only at high speeds. At low speeds, the pressure reduction created by rear diffusers is insignificant and minuscule. So, don't expect any increased grip or handling at low-to-mid speeds. Only at moderately high speeds, you're bound to feel the difference that rear diffusers bring to the table.
Are aftermarket diffusers functional or just for looks?
There are three critical components of highly-effective, factory-made diffusers: vertical fins, smooth underbody, and the expansion chamber.
The above aftermarket rear diffusers don't have expansion chambers. However, they all have vertical fins, as well as a smooth underbody. This means that they can make a slight difference in performance at high speeds.
Closing thoughts
Hopefully, this entry has helped you make the right rear diffuser choice for your BMW F30 and assisted you in installing it and understanding how diffusers work. If you are certain that you can perform the installation, go ahead and follow the outlined steps carefully. If not, we encourage you to take your F30 to a mechanic and have them do it for you.
Find the diffuser that you like the most from the list above and have it installed on your BMW. Whichever one you choose, you won't regret it – they all offer quality builds and look fantastic.