Even though BMW is known for making some of the world's most iconic inline 6-cylinder engines, the V8 S65 and the V10 S85 might as well be some of the best BMW engines ever made.
With its naturally-aspirated design, the S65 V8 is known for having individual throttle bodies, a hydro-aluminum design, high redline, and an incredible exhaust sound. The S85 is the first and only BMW naturally-aspirated V10 with dual overhead cams with four valves per cylinder, an aluminum block, and an intoxicating V10 sound, reminiscent of old F1 cars.
Both of these are standalone engines that share no parts with regular production BMW engines. The S65 is loosely based on the S85. With an excellent exhaust note, and linear powerbands, these two iconic BMW M engines are true Hall of Famers, but how do they stack against each other? 
S65 vs. S85 specs at a glance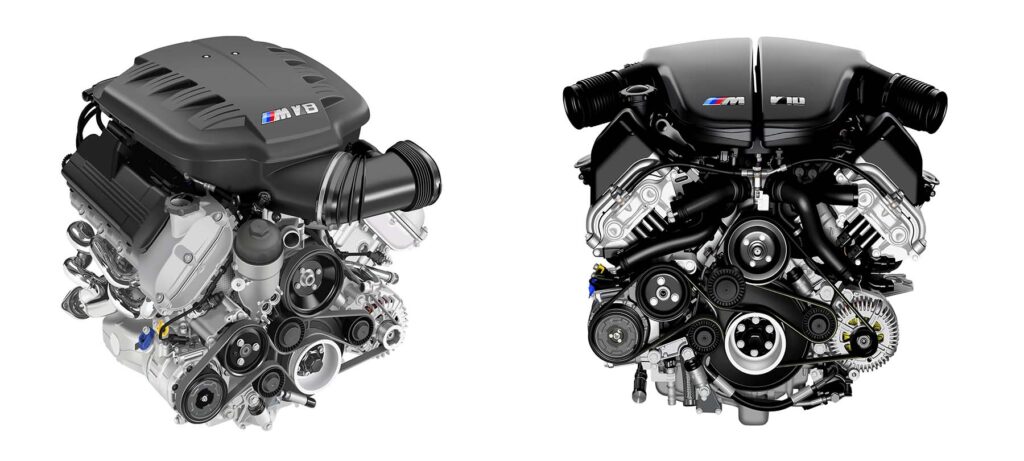 | | | |
| --- | --- | --- |
| | S65 | S85 |
| Stock Power & Torque | 414 hp ; 295 lb⋅ft  | 500hp; 384 lb⋅ft  |
| Record Horsepower | ~1,000whp  | ~1,300whp  |
| Displacement | 3,999 cc | 4,999 cc |
| Compression Ratio | 12.0:1 | 12.0:1 |
| Internals | Forged steel crankshaft, steel rods, aluminum pistons | Forged steel crankshaft, steel rods, aluminum pistons |
| Block Material | Aluminum | Aluminum |
| Bore & Stroke | 92 mm x 75.2 mm | 92 mm x 75.2 mm |
| Redline | 8,400 rpm | 8,250 rpm |
S65 vs. S85 Power & Torque 
Stock horsepower and torque are higher with on the V10 S85 E60 M5 engine as it outputs 500hp and 384lb-ft of torque at 6,100rpm. The M3 V8 S65 offers 414hp and 295lb-ft of torque (450hp and 325lb-ft of torque in the M3 GTS) at 4,000rpm. There is no contest here, the S85 M5 10 engine is the more powerful unit from the factory. In fact, it was the most powerful BMW engine ever made when released back in 2005.
The S85 outputs more horsepower & torque than the S65
As seen in the table above, the S85 offers around 50-70hp more than the S65 from stock while torque is also in favor of the S85 by 25-89lb-ft. The V10 is a superior free-revving engine, but maximum power is reached at 6,100rpm which means that you need to rev it quite high. On the other hand, the S65 reaches peak power at 4,000rpm.
Both engines are high-revving and naturally aspirated which means that both offer a linear powerband and are fairly consistent throughout the rev range. Daily driving is also a breeze with both, but the S65 is a better daily driver as lower peak power usually means more low-end push.
S65 vs. S85 Tuning & Mods 
These engines aren't as easily tunable as modern turbo BMW engines, it's not as easy to significantly upgrade the power output without a big investment. The BMW S65 can be tuned by modifying the exhaust with a less restrictive system that will allow the exhaust gases to escape in a more efficient way.
You can increase the power of the S65 by 10-20 hp with a simple ECU tune. Performance intake mods are also common mods that also enhance intake sound. Upgraded pulleys will reduce parasitic losses in the engine and give you an extra 5-10 horsepower. You can extract more power from the S85 by upgrading the camshafts, investing in a less restrictive exhaust system, and opting for an upgraded intake. 
The BMW S65 has greater tuning potential than the S85
Installing a supercharger kit on both the S65 and S85 will give you a considerable horsepower and torque bump. This modification is rather expensive but forced induction is the best way to give these naturally-aspirated engines more power.
The BMW S65 engine does seem to be the more easily tunable engine because it offers more ways to increase the car's power, and is significantly cheaper to do so. All in all, the S65 is the better value option as it is not going to eat into your bank account as much if something goes wrong, and many things can go wrong with the S85, as we'll see below.
S65 vs. S85 Reliability: Are these engines reliable?
Both the S65 and the S85 are high-maintenance engines. They can stand the test of time if you take proper care of them, but the S65 is generally considered a more dependable engine and will require less money in repairs long term.
Excessive rod bearing wear and failing throttle actuators are common issues across both. The S85 also suffers from SMG transmission issues, valve cover gasket oil leaks, and issues with the Vanos solenoids.
The S65 is more reliable and will require less maintenance than the S85 
S65 ownership is less stressful and much more forgiving as the S65 requires less frequent maintenance and catastrophic failures are rare. Either way, both will require bearing rod replacements at some point, and you can expect these to run you about $2,000 to $3,000 with labor.
Change the oil every 5,000 miles, change the rod bearings before 100,000 miles, and be on top of any issues that arise and these two engines may outlast the car.
S65 vs. S85 Sound: Which engine sounds better? 
It's a really tough choice to choose between these two in regards to sound as both are big high-revving engines with redlines upwards of 8,000rpm. V8 and V10 engines are deeply rooted in motorsport, meaning that both sound like pieces of motorsport legacy.
The S85 sounds better than the S65
However, if we had to choose, we'd always go for the S85 V10 because the sound of this engine is unique and unlike almost any other road-legal car. There is something about high-revving V10 engine sounds that no other type of engine can match. When the S85 is over 7,000 RPM, it is nothing short of pure auditory bliss. 
Conclusion: Which engine is better? 
These two engines can easily be considered some of BMWs greatest engines and are legendary in their regard. You can tune them, but they will not offer the best performance-for-buck ratio, not nearly as much as newer BMW M turbo inline-6's or turbo V8's, such as the S58 or S63. 
The S65 engine is more common, more easily tunable, more reliable, and cheaper to run. The S85 on the other hand is exotic, with very smooth power delivery, and is one of the best-sounding BMW engines of all time.