If you want your F30 to look as when you're leaving as when you arrive, exhaust tips for the 335i, 340i, 328i, and 330i F30 might be the accessory you're looking for. Although a rear bumper and spoiler add up a lot when it comes to a car's sportiness, the exhaust tips can make a big difference in terms of looks.
In this entry, we're going to a variety of BMW F30 exhaust tips for your 335i, 340i, 328i, and 330i that will spruce up the aggressiveness and the overall sportiness of your BMW.
BMW F30 Exhaust Tips – Top Picks
Which Exhaust Tips Are Compatible With the BMW F30?
Although confining our selection to tips that fit the F30 3 Series and F32 4 Series narrows things down, there are still various F30 models available out there. And we're talking specifically about the models 335i, 340i, 328i, and 330i.
For instance, the BMW F30 335i and 340i have a 2.36 inches (60mm) exhaust outlet with the factory tips removed. The 328i and 330i feature the same inner diameter, but both exhaust tips are adjacent to one another.
The outer diameter of the exhaust tip for the BMW F30 should be a maximum of 4 inches across all models. Exhaust tips with a diameter any larger could make contact with the rear bumper or a rear diffuser or even not fit at all.
Exhaust Muffler Tips for BMW 2012-2018 F30 3 Series
Qiilu Carbon Fiber 3.5 Inch Outlet Exhaust Tip
Product Overview
Fits vehicles with outer exhaust pipe diameters between 60mm and 63mm
Akrapovic branding
3.5-inch outlet
Black carbon fiber weave
This exhaust tip fits exhausts with a diameter of 2.36 inches to 2.48 inches, making it perfect for the F30. Although these aren't difficult to install, professional installation is recommended – you don't want to damage anything connected to your car's exhaust system.
High-quality stainless steel was used to make this aftermarket upgrade, making it rustproof, corrosion-resistant, durable, and lightweight – perfect for protecting your car's exhaust pipes. The Qiilu exhaust tip improves the look of your exhaust system with its elegant carbon fiber finish.
Fitment & Compatibility:
BMW F30 328i
BMW F30 330i
BMW F30 335i
BMW F30 340i
Oritech Carbon Fiber Exhaust Tips for BMW F30 328i 335i
Product Overview
Fits on virtually any F-chassis BMW
63mm inlet diameter
Clamp bolt-on installation for easy install and removal
Made of high-quality authentic carbon fiber and stainless steel
M-Sport badging
In addition to fitting the F30 models 335i, 340i, and 328i, the exhaust tip model from Oritech also fits BMW Series 1, 2, 3, 4, 5, and 6, in addition to M2, M3, and M4 models.
Both the outside and the inside diameters of this model fit the size requirements for the exhaust tip diameter. The tip is almost exactly 2.5 inches, which means it's easy to bolt-on install to the F30 models in question. The clamp connection makes installation simple.
This tip is made of top-quality carbon fiber and stainless steel. It is shiny and black and resistant to rust or losing its shape. Not only do Oritech tips enhance your BMW's sound, but they also protect the exhaust from sun and rain damage.
Overall, these carbon fiber exhaust tips are a simple touch that can compliment well other accessories in your F30, such as a carbon fiber spoiler.
Fitment & Compatibility:
BMW F30 328i
BMW F30 330i
BMW F30 335i
BMW F30 340i
Upower 2.5″ Inlet with 4″ Outlet Exhaust Tip
Product Overview
Universal exhaust tip that can fit in a wide variety of cars
Blue burnt tip
Requires to be welded to the tip of the exhaust
Whereas most exhaust tips are black or metallic, this model features a blueish-metallic color, making it unique, to say the least. It is made of blue vacuum plating and features 304 stainless steel that is corrosion-resistant and rustproof.
Unlike most exhaust tips, this one requires weld-on installation, which is unlikely to be something that you can perform by yourself unless you are an experienced welder or a vehicle upgrade specialist. Taking your vehicle to the experts to install the Upower Blue Burnt exhaust tips is pretty much unavoidable.
The outer diameter is around 4 inches, which is the upper limit. However, this helps the tips stay in place.
Fitment & Compatibility:
BMW F30 328i
BMW F30 330i
BMW F30 335i
BMW F30 340i
Real Carbon Fiber Glossy Black Exhaust Tip for BMW M3
Product Overview
Exhaust tip for BMW M3, M4, M2, and other M-cars
Glossy carbon fiber appearance
70mm inlet
92mm (3.6 inch) outlet
This product from FYUU may be an unknown brand, but it is still as effective as it is fashionable. This model is slightly larger than the recommended 2.5 inches, but both its inner and outer diameter meet the 4-inch maximum requirement.
Although the installation process here isn't too complex, it's still recommended that you visit a professional when installing this model.
Fitment & Compatibility:
BMW F80 M3
BMW F82 M4
BMW F87 M2
Although these tips could fit any BMW with the N55, B58, N20 & B58 engines, we cannot guarantee exact fit on any other BMW's than the F30/F31 3 Series and the F32 4 Series due to differences in exhaust configuration and bumper styles.
How to Install BMW F30 Exhaust Muffler Tips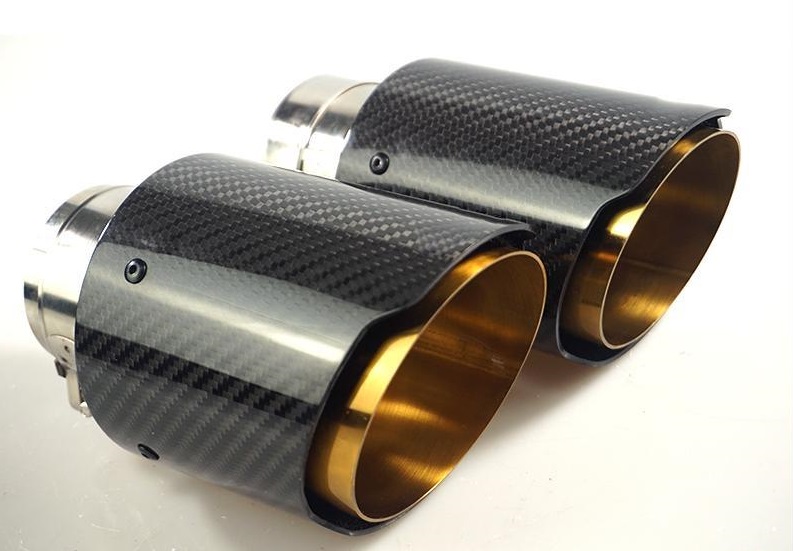 Once again, the installation of any exhaust muffler tips should be left to professionals unless you have a lot of experience with similar or identical aftermarket upgrades.
That said, the basics of installing exhaust tips (so long as they're bolt-on) boils down to inserting the exhaust tip into the current muffler tips you have on your F30 (so long as they aren't themselves aftermarket). You'll need a screwdriver or a hex tool to do this, depending on the exhaust tip model.
Do any of these tips require welding?
However, tips like the Upower Blue Burnt tips require welding so unless you have such experience, take your car to a muffler shop to have the tips installed. Bottom line: if exhaust tips don't have clamps, they require welding/soldering.
Frequently Asked Questions:
What is the diameter of the BMW F30 328i exhaust?
The diameter of the exhaust outlet without tips is 2.36 inches (60mm) on the 328i and 330i.
What is the diameter of the BMW F30 335i exhaust?
The diameter of the exhaust outlet without tips is 2.36 inches (60mm) on the 335i and the 340i.
What is the diameter of the BMW F80 M3 exhaust?
The diameter of the exhaust outlet without tips is 2.75 inches (70mm) on the F80 M3 and F82 M4.
Can you install 2.5-inch exhaust tips on the BMW F30?
Yes, as long as you clamp it down properly to close the gap.
Do exhaust tips change the sound of the exhaust?
No, exhaust tips alone without any other modification won't change the sounds of the exhaust system.
Closing thoughts & our recommendation
All four exhaust tips featured here are great fits for the F30 models in question. The choice between them boils down to your style and performance preferences. We recommend the clamp-on exhaust tips as they are simple to install and removal takes also seconds.
Exhaust tips can greatly improve the looks of your BMW F30. Pick your style, have the tip(s) installed, and enjoy the brand-new rear-end look.