Whether it is winter or summer, having a roof rack on your BMW F30 3 Series brings another level of versatility to the car. There are various OEM and aftermarket options compatible with the F30 Sedan. Once installed, the roof rack will let you attach a kayak, a cargo box, bikes, or even strap your skis for some alpine thrills.
Roof rack bars contain a complete set with body seals, bars, and attachment hardware. The contrasting brushed aluminum and matte black color scheme look exceptional and match the design of the F30 3 Series. Here are the best options if you want to equip your BMW F30 with roof rack base bars:
Roof Rack Base Bars for BMW F30 3 Series
1. BMW 82712361814 Roof Rack for F30 3 Series & F80 M3
Quick Overview
Genuine OEM BMW roof rack
Bars made of high-strength aluminum
Maximum roof load of 165 pounds
Anti-theft lockable bars to ensure safety and peace of mind
This item is a genuine BMW product. It comes with a lockable system that contains anti-theft features. The product meets the most stringent safety standards, partly due to the support bars made of high-strength aluminum tubing. The maximum load capacity of the rack is 165 pounds.
Additionally, the rack is fairly easy to install, even for those without experience installing these accessories. The rack has all the necessary tools included.
BMW also offers the following accessories you can supplement your F30 with:
Kayak carriers
Snowboard and ski holders
Luggage racks
Windsurfer and surfboard carrier
Lockable racing cycle holders
Backrest bags
Roof rack base support
Liter roof boxes
Snowboard and ski bags
Roof boxes
Trailer hitch covers
Rear storage bags
Universal holders
Ski bags
Compatibility:
2012-2018 BMW F30 3 Series (320i, 328i, 335i, 330i, 340i).
2. Roof Rack for BMW F30 3 Series 328i 330i 335i 340i
Quick Overview
Roof rack for 2012-2018 BMW 3 Series F30
Includes racks and mounting hardware, including bolts
Suitable for roof boxes, bike carriers, and ski carriers.
Another viable option is a set of roof rack carriers for BMW F30 3 Series. It is designed for vehicles with or without roof rails, and although it is an aftermarket accessory, the product is made with high-quality anodized aluminum.
Compatibility:
2012-2018 BMW F30 3 Series (320i, 328i, 335i, 330i, 340i).
Compatibility and fitment
BMW F30 3 Series Sedan (2012-2018): 320i, 328i, 328d, 330i, 335i, and 340i
BMW F80 M3 (2014-2019)
BMW F30 Roof Rack Base System Installation
The items come with mounting directions on stickers underneath the lock caps.
Step-by-step installation
Locate the mounting point to the correct leg of the bar.
Each leg will then be screwed into the mounting point of the car. But before you screw them, clean the threads on the mounting points on the roof of your vehicle to avoid cross-threading.
Attach the legs onto your roof using the screwing kit that comes with the roof rack
How to mount a BMW roof rack:
Roof Rack advantages:
1. Increased Storage Space
The primary reason to install a roof rack on your F30 is to maximize storage space. These components create much more room, enabling you to store various equipment, such as kayaks, skis, surfboards, or fishing gear. The only decision you need to make is buying the right type of roof rack, depending on the kind of objects you're planning to transport.
2. Gives your BMW unique looks
Mounting a roof rack on your vehicle can vastly improve your car's appearance, and with a cargo box, it can give your F30 an authentic unique look. It can give your F30 a unique look when combined with other accessories such as a carbon fiber spoiler.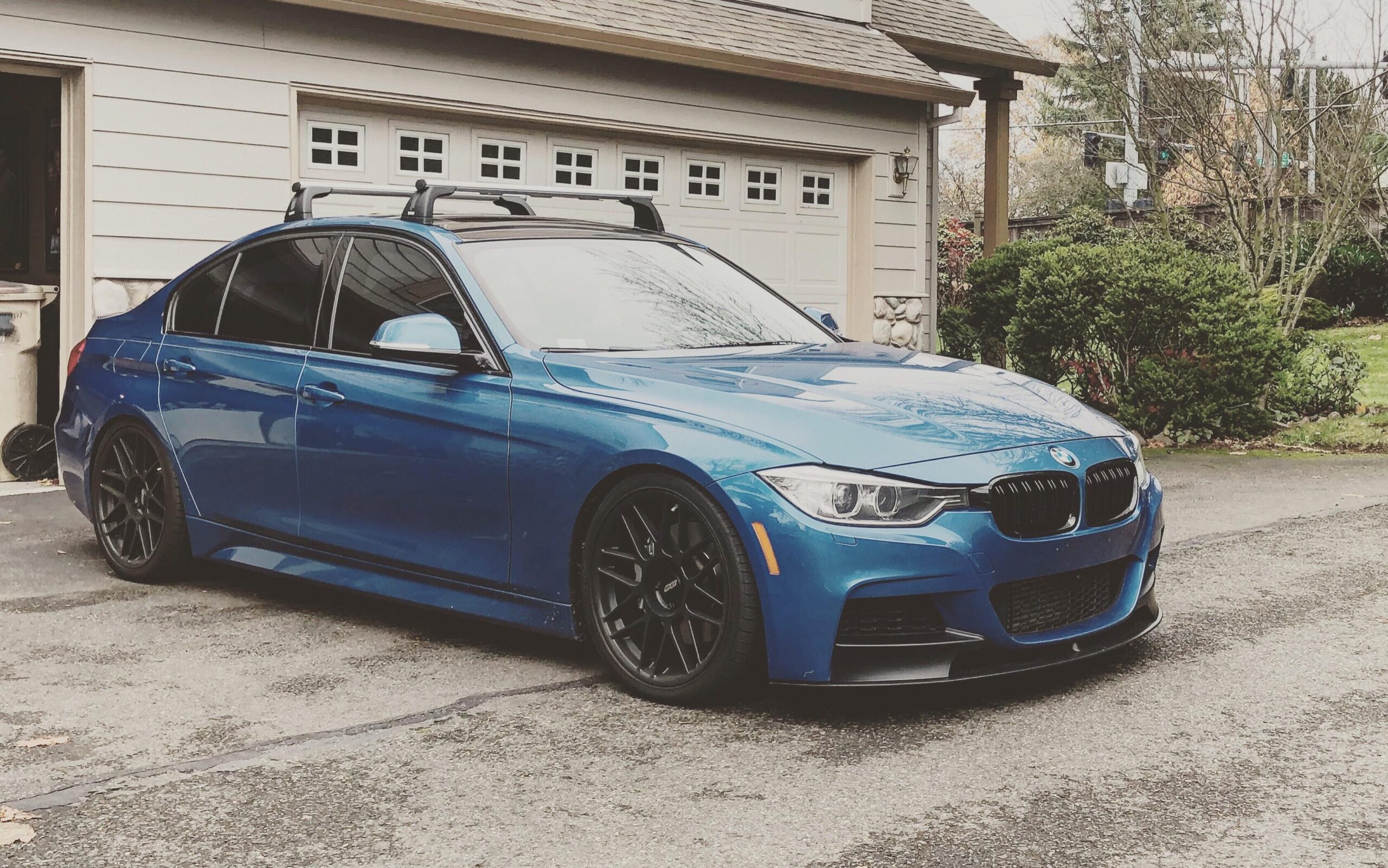 Another good aspect about roof racks is that you can remove them at any time. They're not permanently installed. Taking them off the car takes only a few minutes, unlike other accessories with a more involved installation process, such as a rear diffuser.
3. Avoid interior damage
Without a roof rack system, you'll be forced to carry potentially destructive equipment inside the car. This includes fishing gear, among other things. Consequently, the hooks can scratch and tear your fabric and cause other forms of damage to the car's interior.
But if you mount a roof rack, these items will sit safely on top of the car, without any risk of interior damage to your F30.
4. Increased comfort in long trips
Moving your camping gear without adequate storage space can be extremely uncomfortable due to insufficient legroom. In most cases, you must adjust your seats to provide enough space for your gear. Consequently, your legs are forced into an awkward position, which is both uncomfortable and unhealthy.
However, roof racks can carry all your camping equipment. This can take the load off your trunk, eliminating the need to move the seats forward and fold your legs.
5. Enhanced safety
If you put too much luggage in the trunk of your car, it can block the driver's view of the rear window. Driving a vehicle with an impeded rear view is dangerous on many levels. But with a roof rack carrying the excess luggage, the driver has a clear vision and can keep track of the vehicles behind them. Therefore, even the most basic activities, such as parking and getting out of the way when someone is overtaking, are much safer with roof racks.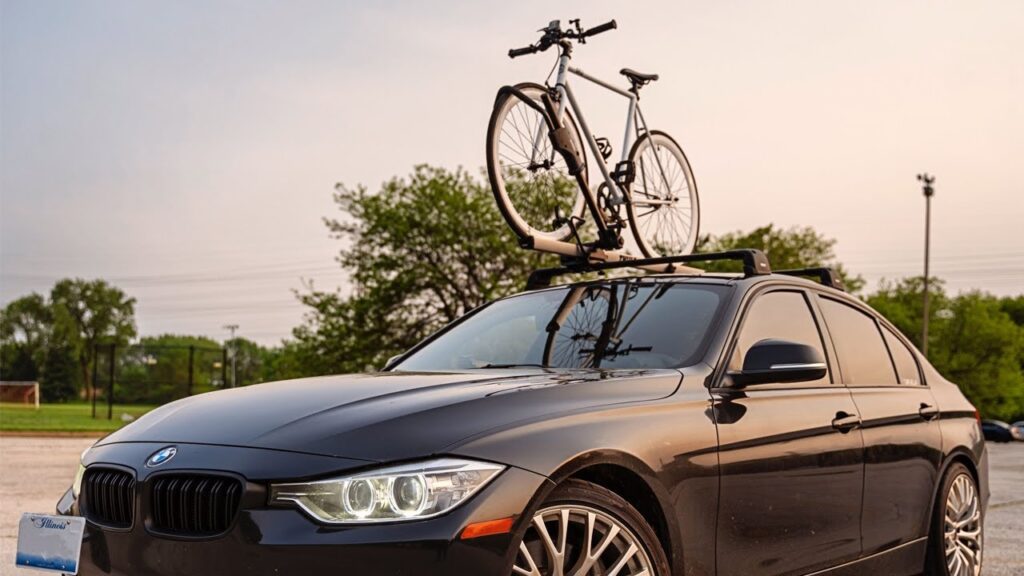 Additional Considerations When Getting an F30 Roof Rack:
Do Roof Racks Affect Fuel Economy and Aerodynamics?
Yes, your fuel economy and aerodynamics suffer slightly due to a roof rack. F30 and other sedans experience a significant impact on their fuel economy when equipped with roof bars. The decrease in fuel economy is even greater if you're carrying bicycles, snowboards, or cargo boxes.
Therefore, it's highly recommended that you remove roof rack accessories and, if possible, the roof rack carrier when you're not using it.
What is the maximum capacity of a roof rack on the F30?
The maximum roof rack capacity in a BMW F30 is 165 pounds. You shouldn't exceed this threshold since it can damage your roof rack or the mounting points. In normal circumstances, this capacity should give you more than enough room for a weekend adventure with a lot of gear.
Placing too much weight will make your car handle poorly, reduce fuel economy, and increase the odds of rolling over. In most cases, bulky items, such as large spare tires, are better stored at your home or elsewhere. You should not place any particularly heavy items on top of the rack.
How to load a roof rack with cargo
Instead, make sure all the gear is properly positioned and secure. Moreover, keep the weight for the cargo load as low and close to the center of the vehicle as possible, to affect driving dynamics minimally.
Use the correct boxes whenever loading objects on the rack. Do not put loose objects that are not sufficiently secured as they may fall when driving at highway speeds due to the high air resistance at high speeds.
Closing thoughts & our recommendation
If you were not sure about whether or not to acquire a roof rack for your BMW F30 3 Series or F80 M3, investing in one is the right choice if you find yourself carrying cargo, bikes, skis, and other big items that you can have trouble fitting inside the car.
Camp trips and other adventures will be far easier, with the roof rack carrying all the gear. Ensure not to exceed the weight capacity, or you may face some issues.