Biking is an incredibly enriching activity. Whether you take your bike to the local park, or go mountain biking hours away from the city, with a bike rack for the E90 the possibilities are endless. Being able to carry bikes long distances with comfort takes this hobby to the next level.
Sure, you can try and squeeze your bicycle into the trunk, but there is no need to scratch your paint, or interior upholstery when there are many trunk mounted and roof mounted bike racks that are designed or compatible with the BMW E90.
Let's take a look at some of the best bike racks for the BMW E90 3 Series:
Bike Racks for BMW E90/E92 3 Series
1. Allen Sports Deluxe Trunk Mount 3-Bike Rack
Quick Overview
Universal 3-Bike rack compatible with the E90 Sedan and E92 Coupe.
Sets up in seconds, easily removable.
Rugged components with a lifetime warranty.
Patented tie-down system to protect both the bicycles and the vehicle's body.
Lifetime warranty.
The first bike rack for the E90 on the list comes from Allen Sports, and it is a well-designed and convenient, trunk-mounted bike rack. This bike rack is designed to be universal and fits BMW E90 and BMW E92. Due to the universal design, it can also fit any other sedans and even SUVs with ease. The trunk-mounted bike racks are handy since they are easy to install, do not require you to climb onto the roof to fit them, and are easy for you to mount the bikes.
This Allen Sports Deluxe Trunk Mount 3-Bike Carrier, Model 103DN-R, is built out of lightweight but robust steel alloy and weighs under 10 pounds, not adding a lot of weight to the back of your E90. A patented tie down system allows you to secure your bikes with ease and narrow set carry arms make it compatible with virtually any bike.
It comes fully assembled, and all you need is to follow the instructions and mount the bike on the back of your car. This product's design allows the bikes to be fat enought from the back of the vehicle to prevent scratching the paint.
2. BMW Roof Base Bars for BMW E90 3 Series
Quick Overview
Genuine BMW accessory.
Compatible with E90 Sedan and E92 Coupe.
Roof rack base can support a bike holder and other roof-mounted accessories.
Optimized aerodynamic profile for reduced drag and noise.
Straightforward installation.
The second product on our list is the classic roof rack assembly which consists of two racks that mount on top of the vehicle. This is BMW OEM part which means that it is designed and produced with the highest standards in materials, fit and finish, and durability.
The BMW Roof Rack Base System, as it is officially called, is designed to be mounted and bolted in pre-defined spaces on the edge of the roof. This product is for BMW E90 Sedan and will also fit the E92 coupe.
Even though some people attempt to carry bikes strapped on the roof racks, we strongly suggest you do not do that since it will almost certainly result in damage to either your car or your bicycle. To use this item as a bike rack you'll also need the roof mounted bike carrier below.
3. BMW Roof-mounted Bike Rack
Quick Overview
Bicycle carrier for OEM roof rack base.
Carries one bike, up to two bike holders can be used on the roof rack.
Guaranteed compatibility with BMW cross bars.
Keys and lock are included to lock the rack and the bike.
If your E90 is equipped with roof base bars, you'll need the accompanying roof mounted bike rack system to be able to mount bikes on top. This acessory from BMW bolts on directly to the roof bars rail system. Up to two of them can be installed on the roof bars, and you'll need one for each bike.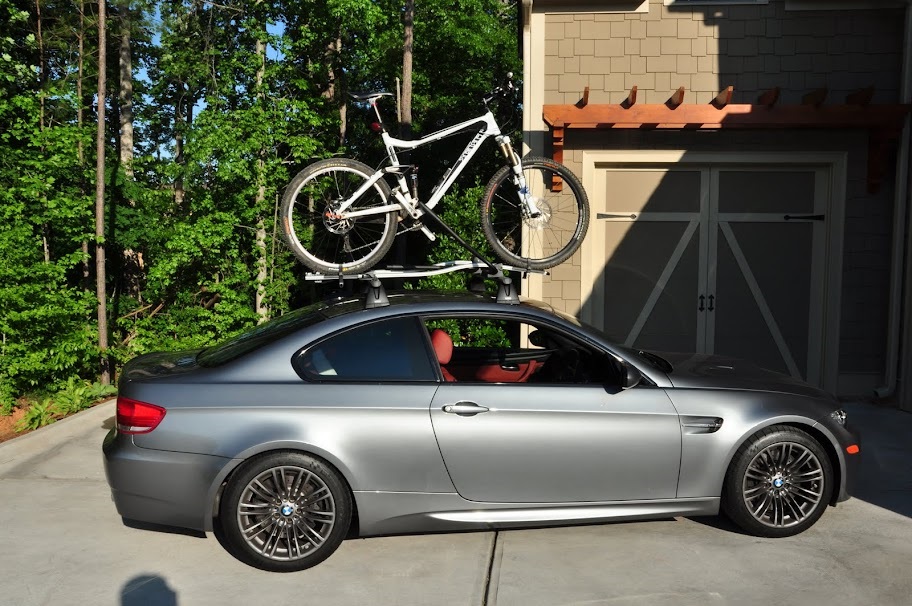 More importantly, this BMW Bike carrier comes with an essential lock that will not only will it keep your bike secured to the top of your E90 or E92, but it will also act as a safety measure against theft. Yes, we know that it is a bit harder to correctly position the big downhill-type of the bike on the roof of your BMW, but once you master it, it will be a breeze.
4. Allen Sports Deluxe 2-Bike Trunk Mounted Rack
Quick Overview
Universal bike rack compatible with the E90/E92.
Capacity of up to two bikes.
Can be set up and removed in under a minute.
Carry arms fit a wide range of bicycle sizes.
Another product from Allen company and again is rear-mounted bike rack which is designed to fit all body styles and is compatible with any E90. However, compared to the first product on our list, it has a bit different construction and slightly less weight, affecting its usability.
As with all rear-mounted bike racks, the Allen Sports Deluxe 2-Bike Trunk Mount Rack, Model 102DN-R, comes pre-assembled and ready for installation, which is quite simple. This product can carry two full-size bikes and which are located far away from the back bumper of the trunk so you will not damage your paint.
Compatibility and fitment
2006-2011 BMW E90 323i 325i 328i 330i 335i Sedan
2007-2013 BMW E92 328i 335i Coupe
The above bike racks are compatible with both the BMW E90 3 Series Sedan and BMW E92 3 Series Coupe. The roof bars are also compatible with other BMW cars.
Advantages of having a bike rack on your car
Maximize interior space
Unless you're carrying a bike for a small kid, you'll always have to fold the E90 back seats to fit even one bike. This compromises interior space significantly.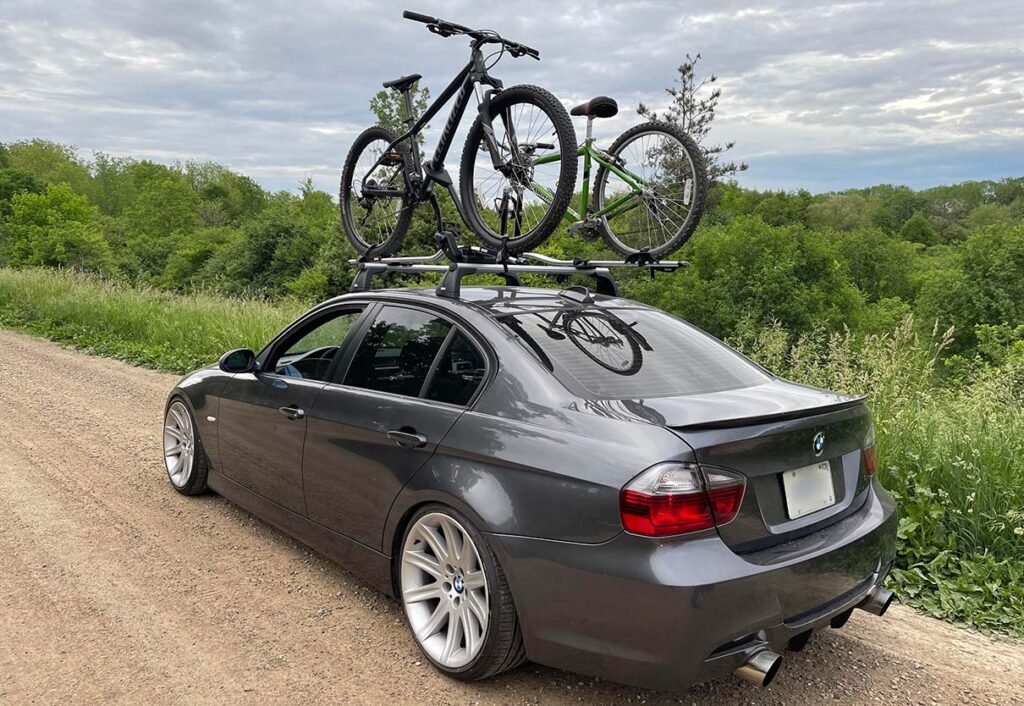 Avoid interior scratches or bike damage
We've all know how much of a hassle it is trying to fit bicycles in the trunk of the E90 or even in a wagon or SUV. The pedals, the handle bars always get stuck on something and interior panels end up getting scratched up, or greased up by the chain. Tire marks are also an issue.
Carry up to three bikes
Even with the rear seats folded down, the interior of the E90 will struggle to fit even two bikes. If you're going biking with family or friends, being able to carry three bikes without compromising any interior space is a must.
How to install a bike rack on the BMW E90
Trunk mounted bike rack installation
Here is how to install a traditional mounted bike rack on the E90 3 Series Sedan and E92 3 Series Coupe.
Unfold rack and install set up pins.
Flip rack over and repeat on opposite side.
Completely extend bottom foot.
Place rack onto car.
Hook top straps over metal edge at the top of trunk.
Hook bottom strap to metal edge below bumper.
Attach side straps to left and side right of trunk.
Tighten all straps until elastic is tight.
Load your bike and secure with tie-downs.
Roof mounted rack installation
The installation of the roof rack is slightly more complicated but still in the realm of any user. Here are the step-by-step instructions directly from the manufacturer. The video applies to the E90 as well.
Frequently Asked Questions
Trunk-mounted bike rack vs. roof-mounted bike rack
Both types of bike racks have their advantages and disadvantages. Here is a quick comparison
Advantages
Disadvantages
Trunk Rack
-Easiest to install and remove.
-Inexpensive.
-Can fit a wide variety of vehicles.
-You may risk vehicle paint damage.
-Least secure and easy to steal.
-Trunk is inaccessible when installed.
Roof Bike Carrier
-Allows access to trunk of vehicle.
-Can be adapted to carry kayaks, skis, etc.
-Bikes don't obstruct rear visibility.
-Hard to mount and dismount.
-You may damage your bike in a low-clearance area if you forget its mounted on top.
Do you need a tow hitch to use a bike rack?
Besides trunk and roof bike racks, there are also bike racks that can mount on E90s equipped with a tow hitch. However, none of the bike racks listed here require a tow hitch to be mounted onto your car.
Altough the BMW E90 has an acceptable tow rating, it isn't common to see them equipped with a towing kit. If you use your bike rack only a few times a year, it is more practical to use a trunk mounted rack instead of getting your car equipped with a tow hitch.
Final words and our recommendation
Having a bike rack on your BMW E90 is the best way to transport your bikes and enjoy a ride in nature or the city while not compromising any interior space.
Which one would be the best to get? Our choice is the Allen Sports Deluxe Trunk Mount 3-Bike Carrier as en excellent all-around solution which is simple to mount on your car, can carry two bikes, it's built out of quality materials, and provides great value for the cost.