The BMW E46 features two light bulbs that illuminate the license plate at night. License plate lights can be replaced with LED bulbs for higher light output, crisp white light, and long durability. Installing the right LEDs is key as they need to have an integrated chip to avoid flickering or errors.
In this article, we'll present a list of LED license plate light options for your BMW E46 and let you know the features you should keep an eye on. Let's get started:
BMW E46 LED License Plate Lights
LED License Plate Lights for BMW E46 Coupe
Quick Overview
Compatible with late-model E46 Coupe and E46 M3
Bright white LED diodes with CAN-bus error-free decoders
Direct replacement for factory license plate lights
3W LEDs are at least 3x brighter than factory lights
With the iJDMTOY model, you get an extremely bright, 18-piece xenon light device featuring LED diodes. It is 3-watts strong and is three or more times brighter than the original factory license plate light. The LED light is bright, clear, and has a more white tone than the factory halogen bulb.
Not only does this model give your E46 a more modern and luxurious look, but it helps enhance your safety during nighttime driving.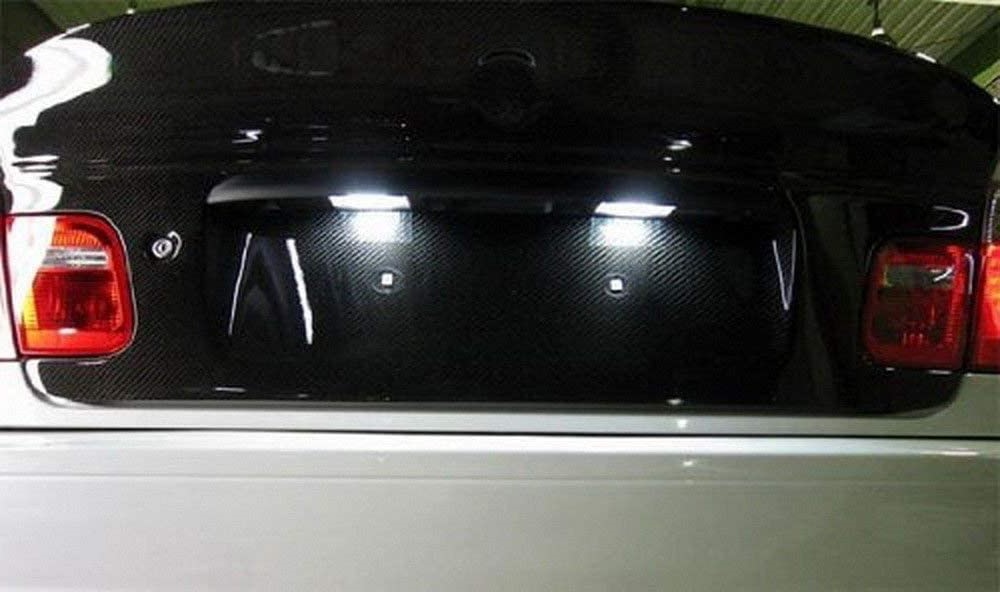 This model is a direct replacement – expect no extra screws and no extra hassle, as long as your E46 is a supported model. It features CAN-bus error-free decoders for no flickering or error codes.
Compatibility and Fitment:
2004-2006 BMW E46 3 Series Coupe 325Ci 330Ci & M3
LED License Plate Light Kit for 1998-2003 E46 Sedan
Quick Overview
Compatible with 1998-2003 BMW E46 3 Series Sedan
Powered by 18 LED diodes with a built-in CAN-bus error-free decoder
3-watt LEDs are three times as bright as factory ones
If you own a 1998-2003 BMW E46 3 Series Sedan, this license plate light LED replacement will not only prove to be a fitting replacement, but also a huge improvement, as it's three or more times brighter than the default light on E46 models. This is due to the 18-piece xenon white LED diodes that boast high light output.
This is a 3W LED light that's very powerful and will help evoke a modern and prestigious appearance on your E46, even though your vehicle might be two decades old.
The CAN-bus error-free decoders ensure your license plate light doesn't flicker or throw any error codes.
The replacement process is also very straightforward – no extra screws are required, as long as you're installing on a compatible model (1998-2003 E46 3 Series Sedans that are pre-LCI).
Compatibility and Fitment:
1998-2003 BMW E46 3 Series Sedan 323i 325i 328i 330i
E46 Sedan White LED License Plate Light Upgrade
Quick Overview
Compatible with 1998+ BMW E46 Sedan and Wagon
At least twice as bright as the stock lights
Direct plug-and-play without additional wiring or modifications
6000K-6500K color temperature
This model is not just a replacement for your old light but possibly a significant improvement. The GemPro light is two to three times brighter than the typical OEM LED license plate light options. It was designed for E46 four-door Sedan and five-door Touring models 323i, 328i, 325i, 330i, and 330xi.
GemPro has a built-in CAN-bus controller, so don't expect any onboard computer errors. It uses the 18-SMD 3W energy conservation, bringing significantly lower power consumption.
No extra screws are necessary for installing this license plate light model – it's a direct plug-and-play replacement that doesn't require any modification. This is a modern license plate light that both works and looks great.
Compatibility and Fitment:
1998-2005 BMW E46 3 Series Sedan & Touring/Wagon 323i 325i 325xi 328i 330i 330xi
How to replace BMW E46 license plate lights
All three mentioned license plate light models feature a simple plug-and-play type of installation. It can be done at home in a few minutes with just basic tools.
Here's how to replace the license plate lights in your BMW E46:
Open your vehicle's trunk. You may need to take the license plate off.
Take a plastic trim tool and remove the lights.
Take out the old bulbs if there are any.
Take the replacement lights and push them in until they click in place.
Screw the license plate back on.
Make sure to use a plastic trim remover to avoid unnecessary scratches and dents on your vehicle's paint.
Considerations When Replacing E46 LED License Plate Lights
In addition to vehicle compatibility, there are a few other things to remember when choosing an LED license plate light for your BMW E46. Some of these include the color temperature, the power consumption, and the CAN-bus error.
E46 License Plate Light Size/Type
The E46 license plate light uses two 168, 194, or 6418 C5W bulbs.
Color Temperature
Color temperature is typically represented in Kelvins (K) and refers to the range between warmer and cooler colors. Warmer colors have lower Kelvin indexes, while higher Kelvin indexes indicate cooler colors. At around 2700K, we have an Extra Warm White color. At 3000K, it's Warm White. Standard White is around 3500K. Cool White is approximately 4000K, while the Daylight White (the brightest) is between 6000K and 6500K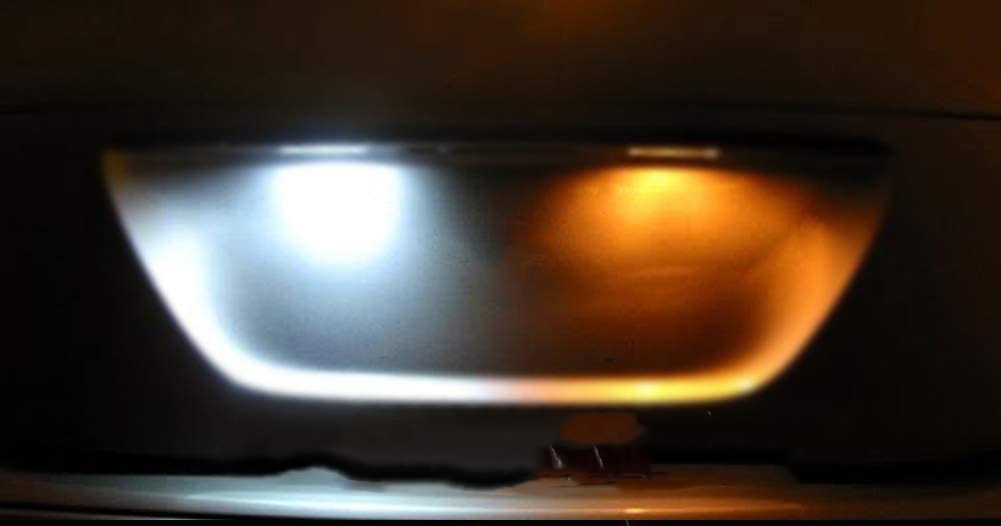 Typically, the original license plate lighting color for BMW E46 vehicles is around 4000K, which is considered Cool White. This is fairly bright. All three mentioned license plate light products are in the range known as Daylight White (6000K to 6500K). Brightness should be a consideration, as it ensures a clearer view of the actual license plate, more on-road safety, and a modern look for your vehicle.
Power Consumption
Typically, LED license plate light upgrades draw less power than factory bulbs. In the case of the three products mentioned above, we're talking about 3W. Not only is this better for the environment and your car battery, but it also means the aftermarket lights offer better bulb longevity.
CAN-Bus error
A significant problem with most aftermarket upgrades for vehicles is that some LED bulbs might end up throwing codes, as your ECU may think that there is no bulb installed or that there is an electrical malfunction.
All of the above LED license plate light replacement options have built-in CAN-bus controllers, which help enhance the digital compatibility between them and the E46 model.
Final thoughts & recommendation
Replacing your E46 license plate lights with LEDs is an easy task that can make your BMW have a more modern look due to the bright, white, and clear light output of modern LED bulbs. There is no point in replacing a defective bulb with an incandescent bulb, as LED offers much greater durability.