It is inconvenient when your reverse light bulb goes out. Apart from the warning message on the instrument panel, not having a good light source when driving in reverse can cause trouble backing up or maneuvering in your driveway at night since visibility is reduced. Other drivers may not be able to see you are about to reverse your car.
If your reverse light is not working, replacing a BMW E90 reverse light bulb is a simple process; you could also upgrade to a LED reverse bulb for increased brightness, whiter light output, and long-lasting durability. Let's take a look at some replacement reverse bulbs:
Replacement Reverse Light Bulbs for BMW E90/E91/E92/E93
BMW E90 LED Reverse Light Bulbs (Pack of two)
Quick Overview
Bright LED replacement for factory bulbs
6000K color temperature for a bright white light
Plug-and-play installation
CAN-bus error-free built-in driver ensures no dash codes
3x as bright as comparable halogens
Manufactured by Auxito, this product is designed by the highest standards and uses modern LED technology. This means that this reverse light bulb is more durable and produces brighter light than the OEM factory bulb.
The official source claims up to 300% improvement over a regular incandescent bulb item, which is a substantial increase. You want maximum visibility when backing up, especially at night or when it's raining.
The package includes two LED bulbs, 6W per bulb, 12-16V voltage, and a 500Ma current, which means they are a plug-and-play replacement for the E90 reverse lights. It also has 6000K clear white light, which looks modern and dramatically improves visibility.
921 912 W16W LED Reverse Light Bulbs for E90 3 Series
Quick Overview
High-power SMD LED chips to ensure a consistent light output
Improves side and rear-ward light spread
6000K pure white color temperature
CAN-bus chips will not cause errors or lamp warnings
Plug-and-play installation
The LED replacement reverse light bulbs for BMW E90 3-series models are very popular, not just because they use less power and have a longer life, but also because they shine brightly and are inexpensive.
It also comes in pair so you can replace both of your reverse lights with one kit, and it is designed to be a direct replacement for its halogen counterpart. This product is also engineered to provide 6000K clear white light. It also features MPL (Multiple Protection Load), a fuse to prevent it from burning out or damaging a circuit if there is any electrical issue.
921TB Standard 921 Bulbs, 12V, 16W, 2 Pack
Quick Overview
Direct halogen bulb replacement
Standard miniature bulb for good light output
3200K light color
560H service life
Although the LED replacement reverse bulbs for BMW E90 are a very good option in terms of price, durability, and performance, some owners insist on having an OEM-style replacement.
Truth to be told, LED lights tend to look too bright, especially on the early pre-LCI E90/91/92/93 models, which feature regular incandescent bulbs for the rest of the taillights.
This package includes two 921 Standard bulbs, which are OEM-quality and is the same type of bulb that the E90 uses from the factory. The downside of standard halogen bulbs are reduced life, higher heat, less light output, and yellow-ish light, but you can be sure that your car won't report any error codes.
Compatibility & Fitment
2005-2011 BMW 3 Series Sedan (E90).
2005-2012 BMW 3 Series Wagon (E91).
2006-2013 BMW 3 Series Coupe (E92).
2007-2013 BMW 3 Series Convertible (E92).
This includes the 320i, 323i, 325i, 328i, 330i, and 335i.
E90 Reverse Light Bulb Size/Type
W16W, 921, 912 or also called T15.
E90 Reverse Light Bulb Wattage
16 Watts.
Additional considerations when replacing E90 3 Series reverse bulbs
Conventional Bulb vs. LED Bulb
Newer cars have adopted LED technology for most of the lights, not only for the cabin but also for exterior lights. Not that long ago, conventional, incandescent bulbs were the standard not just for tail lights and interior lights but also for headlights.
The BMW E90 is one of those cars equipped with conventional bulbs from the factory. LED light upgrades are available for tail light bulbs and indoor and courtesy door lights.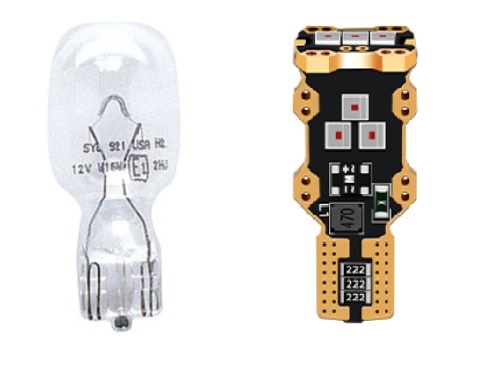 LED bulbs are generally much brighter, and more durable, with a longer life expectancy than conventional incandescent bulbs. The price difference is almost marginal, so people are turning to LED instead of incandescent bulbs.
Would LED Replacement Bulbs Bring Any Error Codes?
For all replacement bulbs above, you will not have any error codes in your car's system since all of those bulbs are equipped with CAN-BUS chips specially designed to prevent any errors.
Replacing the original or OEM-style reverse light bulbs with LEDs is known to result in error codes when using old LEDs that are not designed for modern vehicles with bulb monitoring like the E90. However, that happens with no-name brands and products with no integrated chip or resistor.
How to Replace BMW E90/91 Reverse Light Bulbs
To replace the reverse light on your BMW E90, you don't need special tools or mechanical knowledge to install them successfully. Here is how:
Remove grommets securing the trunk lid inner cover
Remove trunk lid inner cover
Locate the tail light bulb assembly
Locate the reverse light bulb and turn it and remove it from the socket
Install the replacement light bulb
Check for correct functionality of the new bulb
Reinstall the inner tail light bulb assembly
Place the inner trunk lid cover and reinstall grommets
Conclusion
Replacing a reverse light bulb on the E90 is a process that takes mere minutes. You can opt for an OEM incandescent bulb or a LED replacement for brighter light and increased durability We recommend opting for an LED replacement as you won't have to worry about replacing the reverse bulbs again.