Reverse light bulbs in any car will eventually need replacement, and the light bulbs in the BMW F30 are no exception. After years of use, the factory halogen bulb will stop emitting light and iDrive will promptly notify you that a reverse bulb is out.
You might be surprised by the number of different bulb types that you have to choose from – it's not as simple as picking up bulbs for your home. The F30 reverse light bulb can be replaced with a traditional halogen bulb or with a compatible LED replacement.
Read ahead to find out all about some of the best BMW reverse light bulbs on the market today.
Replacement Reverse Light Bulbs for BMW F30
BMW F30 pre-LCI (2012-2015) Reverse Light Bulb – P21W Bulb
Quick Overview
P21W Long Life bulb
Compatible with 2012-2015 BMW F30 3 Series
Standard halogen bulb
A cost-effective replacement that meets OEM standards
These replacement halogen bulbs are a great value, and they have around twice the lifespan that you would expect from standard incandescent bulbs. They give off a clear white color and take less than 5 minutes to install.
They are a simple replacement choice for an F30 that already uses halogen bulbs, but they offer a lot more longevity than you would expect from most bulbs of this kind.
Overall, this is a very cost-effective replacement that will be the exact replacement of the factory part that BMW uses. If you don't plan on owning your F30 for 5 or more years these will most likely outlast your ownership.
BMW F30 LCI (2016-2018) Reverse Light Bulb Replacement – H21W
Quick Overview
H21W halogen bulb
Replacement reverse light of LCI BMW F30 3 Series (2016-2018)
Excellent quality and performance with factory specs
The LCI BMW F30 is equipped with slightly difference reverse light bulbs due to the revised taillights. The H21W bulbs are a more compact package than the P21W the early F30's were equipped with.
Hella offers H21W bulbs with the same specs as the ones the car is equipped with from the factory. A true plug-and-plug replacement at a fairly low cost.
If you want to stick with halogen bulbs on your LCI F30 then the Hella H21W offers excellent build quality and above-average durability that meets all OEM specs.
BMW F30 LED Reverse Light Replacement – SYLVANIA ZEVO LED
Quick Overview
1156 LED bulbs
Compatible with F30 reverse light
Higher brightness than halogen bulbs
Clear white light
Lifetime warranty
If you're looking for some seriously high-quality LEDs, then these are one of the best options you can find. They are super bright with very high lumen output and they reach full power instantly, so you know that you are safe as soon as you start moving. The high brightness can help when reversing in a dark parking lot.
The LED chips are so reliable that they come with a lifetime warranty that guarantees exceptional performance for the entire life of your vehicle. They are even designed to outlive your BMW entirely, and they are both shock-proof and vibration-proof.
The ZEVO bulbs are CANbus error free due to the built-in chip. These LED bulbs won't raise any errors or warnings of a bulb being out in iDrive.
AUXITO 1156 LED Bulbs – Budget LED replacement
Quick Overview
1156 LED bulbs
Bright white light output
Budget friend LED replacement for F30 reverse lights
For a slightly more affordable LED option, you might want to go for these super bright AUXITO bulbs. They are quite similar in design to a traditional halogen bulb and offer 360 degrees of efficient luminosity.
They are 4 times brighter than standard halogens but use just a fraction of the power. They are also designed to be as compatible as possible if you are looking to make the switch over to LED bulbs.
They are also likely to last much longer than any halogen bulb as they have more stable performance and better heat dissipation, so they don't wear down over time.
Compatibility and Fitment
2012-2018 BMW F30 3 Series (320i, 328i, 330i, 335i, 340i)
All of the bulbs listed above are compatible with any BMW F30 3 Series Sedan of year model between 2012 and 2018.
F30 Reverse Light Bulb Size/Type
The BMW F30 pre-LCI (2012-2015) uses P21W bulbs for the reverse light. The BMW F30 LCI (2015-2019) uses H21W bulbs.
You can also use 1156 bulbs if you want an LED replacement on both LCI and pre-LCI models.
F30 Reverse Light Bulb Wattage
12 volts and 21 watts.
How to Replace BMW F30 Reverse Lights
Replacing the reverse lights on an F30 is a simple procedure; similar to doing it on an older 3 Series. Here is the step-by-step process:
Open the trunk and remove the trunk lid trim so that you can access the taillight assembly.
Unclip the bulb assembly from its position.
Push the old bulb inwards, rotate it to the left, then remove it.
Push the new bulb into place and rotate it to the right so that it locks in place.
Re-clip the light assembly into its position.
Repeat for the other bulb.
If replacing the bulb with a traditional halogen bulb or a CAN-bus compatible LED bulb, there are no further steps needed.
If replacing it with LED bulbs not compatible with CAN-bus, you may need to code them to make sure they are properly recognized and the iDrive error goes away. Here is a video is the full installation process:
Additional Considerations When Replacing F30 Reverse Lights
LED vs. Standard Bulb
LEDs are brighter and output a cooler temperature light, often providing more than 400% of the luminosity that a standard bulb gives out. They have a much longer lifespan, which means fewer replacements over time, and they also turn on instantly at full power.
If you plan to keep your car for a while, upgrading halogen bulbs to LEDs changes how your car looks at night due to the cooler and brighter light output. You can retrofit LEDs into virtually every bulb socket.
On the other hand, standard halogen bulbs are much cheaper to purchase, and you may want to opt for them if your vehicle has halogen bulbs installed already to avoid any compatibility troubleshooting or the hassle of coding.
What is the difference between P21W/H21W and 1156 bulbs?
P21W and H21W refer to traditional incandescent bulbs while 1156 refers to LED bulbs. Both of these use the same socket; you can use 1156 LED bulbs to replace either P21W or H21W halogen bulbs.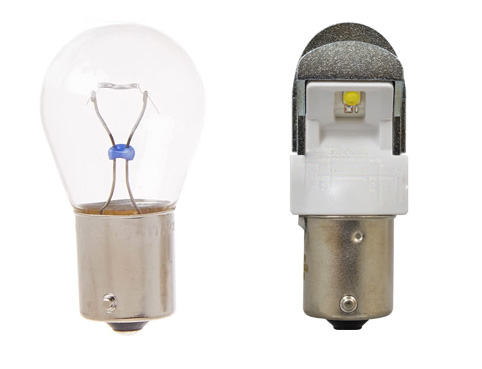 Would an LED replacement bulb bring up any error codes?
If your LED bulbs are not compatible with the F30's CAN-bus, then you are likely to see error codes and they may not function properly. High-end LED bulbs such as Sylvania ZEVO have a built-in chip for the ECU to recognize it as a regular bulb.
It is recommended that you code your F30 so that it recognizes you are using LEDs instead of standard halogen bulbs.
Closing thoughts
If you want to replace the reverse light bulbs in your F30, things are a lot simpler than you might think – although there are a few things you need to be aware of. Make sure you are selecting P21W/H21W or 1156 bulbs, and you will need to choose between standard halogen bulbs and LED bulbs.
Halogen bulbs are simple to replace and easy to find at any hardware or automotive store, but they are not likely to last as long as LEDs. Additionally, LED bulbs are brighter and achieve full power instantaneously, although they may require coding.