You may be looking to surprise your friends or family with a BMW-themed gift. But selecting the right present can be a tough decision since there are so many different products on the market. As a result, it can take you too much time to find the right item, and you might even lose enthusiasm in the process.
BMW-themed gift ideas – Top 3 Picks
Thankfully, you've come to the right place to make your search much easier. We've picked the 10 best BMW-themed gifts, ranging from t-shirts to caps and driving gloves. Keep reading, and you're sure to find the perfect present.
Here are some of the most creative and useful BMW presents you can get:
10 Gifts Ideas for BMW Enthusiasts:
1. Best BMW-themed gift: BMW Fusion Tumbler
Quick Overview
14-oz size
Insulated tumbler keeps liquids cold or hot
Press-on lid with sliding mechanism allows for easy one handed drinking
A fusion tumbler is always an excellent choice if you want to surprise a BMW aficionado. The item is both practical and elegant. Considering that larger water bottles won't fit inside a car without taking up space for other objects, this 14-ounce BMW fusion tumbler is precisely what you need to store coffee or cold beverages. The item will be ready to use on the go, and the owner won't have to make a pit stop at a gas station to buy a drink.
The tumbler should fit BMW cup holders perfectly without any vibration during driving. The insulation is also excellent. The outer material is cool to the touch, and the drink remains warm for hours.
Moreover, the seal is incredibly secure yet easily removable. The tumbler is made of stainless steel, adding a lot of durability to the product.
2. BMW Gift for Her: Key Case
Quick Overview
Genuine OEM key fob case
Direct fit for newer BMW key fobs
Protects your key fob from bumps and scratches
May not fit E90 or older key fobs
Another piece that appeals to any BMW owner is this sleek key case. It's a genuine OEM item, meaning that it will fit the key perfectly. The case is made of high-quality metalwork and leather, and it does an outstanding job at preventing random door or trunk opening in case of rattling inside a purse or pocket. The leather provides cushioning, and you can easily access the key by tilting it.
The reason why you should go for an OEM key case is to ensure that it functions properly. Going for an alternative manufacturer is a risky investment because such a product might not provide adequate protection. Quite simply, there's no going wrong with this BMW key case.
3. BMW Gift for Him: Men's M Wallet:
Quick Overview
100% leather inside and out
Metallic 3D logo
Seven credit card slots, two cash compartments, and removable sleeve for driver's license
BMW M logo
Genuine BMW product
The BMW M wallet is another exceptional product, both outside and in. The item is 100% leather, and the surface is extremely soft to the touch. The exterior comes with the iconic BMW M logo, which is why any BMW owner or fan would be thrilled to have the wallet. The item is also appropriately sized, and you can hold it in your hands comfortably.
To match the outside appearance, the inside has a BMW logo too. It's well-balanced with seven credit card slots, two cash compartments, and one removable sleeve for a driver's license.
All in all, this product is a high-quality, stylish solution for any BMW aficionado. They will feel immensely proud whenever they take the wallet out of their pocket.
4. Best BMW Owner Gift: Puma Motorsport Jacket
Quick Overview
Original PUMA jacket with zipper closure
M-Motorsport print on the front
Side pockets with zipper for secure storage
Available in 10+ colors
This jacket is the result of a collaboration between two trusted names in their respective industries, BMW and Puma. The T7 jacket is an iconic piece that's ruled the market for over 50 years. Any BMW lover will appreciate it as it combines several design features from the original heritage model with modern elements. Therefore, the jacket represents a transformation of style and appeals both to the older and younger generation.
The tonal BMW M Motorsport line is printed all over the front panel at the chest, allowing the owner to wear their favorite manufacturer's name proudly. The zip has full closure and ends with a stand-up collar. The articulated sleeves allow for greater freedom of movement, and the side zip pockets are secure storage solutions. As for the materials, the jacket is 59% polyester and 41% cotton.
5. Black + Decker Handheld Vacuum for car
Quick Overview
Handheld vacuum ideal for car interiors and around the house
Fully cordless, up to 10-hour runtime
Crevice tool allows for cleaning in hard to reach areas
Washable bowl and filter
If you're looking for a compact present that will help your BMW enthusiast keep their vehicle free from dust and debris, this Dustbuster Handheld Vacuum is the way to go. Despite being relatively small, the vacuum has increased bowl capacity (32 ounces), letting the owner collect as much as 50% more dust and dirt before emptying the device. Owing to the lithium technology, the run time is extended, and the suction is much more powerful. Additionally, the filter and bowl are washable and enable the user to clean them thoroughly between jobs.
This vacuum also comes with a crevice tool that can easily clean hard-to-reach areas, and there's a brush used to vacuum and dust upholstery. Considering the wide-mouth design, removing large debris will be effortless, and the cyclonic action helps the filter remain clean and the suction strong. The device is very lightweight and easy to carry, ensuring convenient cleaning. Finally, the nozzle can extend long enough for you to reach almost any area and the wall mount offers a handy storage solution.
Overall, this vacuum brings a lot to the table. If you choose it as your gift, the owner will finally have a simple way to clean their BMW without carrying cumbersome tools.
6. BMW Lover Gift Idea: Roundel Cap
Most people wear a cap with their best-loved car manufacturer to show their support for the brand. That's where this item comes into play. The BMW logo is clearly visible and is positioned at the front of the roundel cap. In terms of sizing, there's a Velcro enclosure that allows for adjustments.
The cap has a black finish and is designed as a unisex item, which means that it will fit any BMW owner or fan. It's made of high-quality, durable fabric. Best of all, the shape is nice, which adds more elegance to the product. If you're looking for the ideal clothing accessory, this BMW roundel cap might just be it.
7. Best Gift for Teen: Respect Your Elders Vintage T-Shirt
Quick Overview
Available in five distinct colors
100% cotton in select colors
BMW 3.0 CSL drawing on the front
This t-shirt is a dream-come-true for any BMW enthusiast. Apart from the powerful line "Respect Your Elders," the front of this garment also features the legendary 70s BMW model. Therefore, this item is a throwback that any age group will appreciate.
There's also a good selection of colors, including black, navy, white, heather grey, and heather blue. The t-shirt is lightweight and comfortable to wear.
Overall, fans of the German car brand will highly appreciate this t-shirt and wear it proudly.
8. Gift for old-BMW owner: Universal OBD II Scanner
Quick Overview
Universal OBD II scanner works with any post 1996 BMW and other vehicles
No need for an external device like an smartphone or a computer
Large adjustable LCD display indicates test results directly
2.5 feet long cable
If you're looking for a well-designed and highly functional piece of equipment, look no further. The ANCEL AD310 Scanner is a superb upgrade from basic diagnostic code readers.
The main function of the device is to detect your engine system, read and erase error codes. Once plugged into a BMW, the unit will turn on and prompt the owner to start the ignition. If the Check Engine light turns on, this will help determine the cause and find the solution.
Despite being an upgrade from some previous versions, the scanner is still simple and easy to use. Any beginner can take the device and read error codes with it. Accordingly, you can get to the bottom of any potential issues much faster, saving a lot of time and money.
The gadget works on most 2000 BMW models and newer OBD II & CAN import or domestic vehicles. It supports English, German, Spanish, French, Dutch, Finnish, Portuguese, and Russian.
The scanner has a large LCD screen with contrast adjustment and a white backlight. Considering that it gets its power directly from the OBDII data link connector in the car, there's no need for any chargers or batteries. Moreover, the device comes with a 2.5-foot cable, and it's made of a thick, flexible insulator.
All in all, your BMW-loving friend or family member will enjoy this device for many reasons. It can primarily help them determine if there are any problems with their vehicle they can resolve themselves. Accordingly, frequent visits to the mechanic won't be as necessary.
9. The BMW Century: The Ultimate Performance Machines
Quick Overview
Award-winning book showcasing BMW's visionary view
Encompasses both BMW's automotive and motorcycle divisions
Filled with images, and in-depth looks for real auto enthusiasts
By getting your hands on this book, you'll get a first-class ticket for a trip through BMW's history. The hardcover work by Tony Lewin is titled The BMW Century: The Ultimate Performance Machines and recounts the first 100 years of the German car brand.
The book is beautifully presented, contains gorgeous pictures, and the writing is easy to follow. Since BMW is one of the oldest car brands in Europe, it contains all the developments and changes the cars experienced over the years. Some of the book's most fascinating details concerning how the company managed to rebuild itself in the post-World War Two era and managed to become one of the most successful car companies today.
The author, Tony Lewin, is an expert in the car industry. He has spent most of his life driving and analyzing cars, as well as reporting the companies' ups and downs. As a result, the book contains an expert's insight into BMW's development, meaning that all the descriptions are accurate and well-presented.
This item is completely different from all previous products on this list, and this uniqueness makes it a great option. Even though it's not an object BMW owners use for their cars, the sentimental aspect can be invaluable.
10. BMW M Driving Gloves
To end on a high note, we recommend buying these BMW M driving gloves. Their owner will appreciate them from a visual and practical perspective. The gloves look outstanding with their 95% Cabretta leather design. There's also a nicely proportioned BMW logo at the wrist.
The gloves are a genuine BMW product and come with a side zip enclosure, ensuring a snug fit. When wearing them in their car, the driver will get a better grip on the steering wheel and feel better control of the vehicle. But even if they're not driving with gloves, they can serve as ideal protection during cold weather conditions. Just make sure you get the right size so that the glove fits each finger appropriately.
Considerations When Looking for BMW-themed gifts
There are many details to consider when purchasing a BMW-themed gift. The main factors concern the preferences of the person you want to surprise.
Personal preferences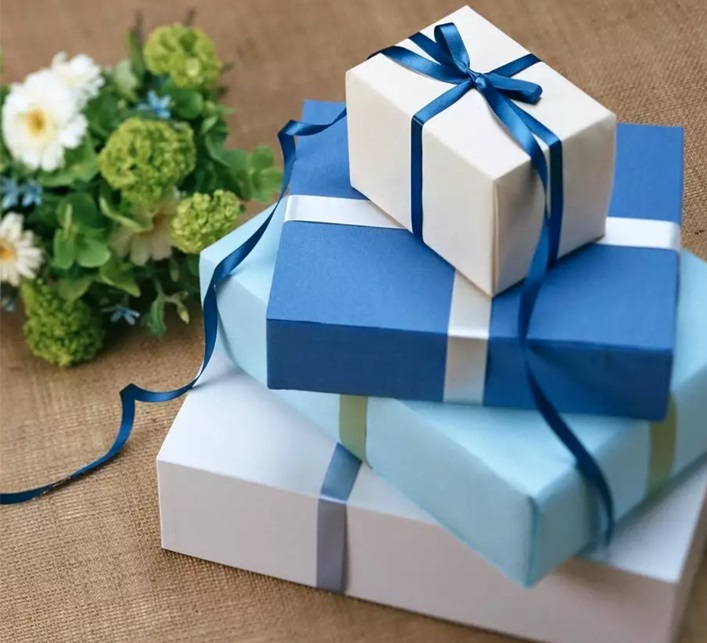 All in all, finding the right BMW gift is all about determining the person's needs and preferences. Try to remember if they mentioned a specific item they desired or figure out if one of the products on this list will be especially useful. Hopefully, one of these 10 pieces is the ideal match.
For instance, if they are fond of clothes, you should go for one of the four options mentioned above. The roundel cap and the BMW M driving gloves are excellent choices regardless of the weather conditions, only make sure the person enjoys wearing clothing accessories.
How does this person use his/her BMW?
Furthermore, if they travel a lot or commute in their BMW, there's no going wrong with the fusion tumbler. It will ensure a simple way of recharging their batteries with coffee or another refreshing beverage.
What car do they drive?
In addition, if they have an older BMW, odds are they'll need frequent maintenance. A device that will help them immensely when the check engine light comes on is the OBD II scanner. This gift will highly be appreciated as it can help diagnose car troubles quickly without a trip to the mechanic.