Certain car parts don't fare well in extreme conditions. The BMW F30 uses inner door pull handles that start melting and feel sticky after exposure to excessive heat or extended wear and tear. If you own an F30, you'll eventually have to replace your inner door pull handle as it will sooner or later become sticky.
Fortunately, fixing an inner door handle melting is relatively simple as there are covers with improved material that won't have the same fate as factory parts.
The F30 door handle melting is a common issue, not only on the F30 3 Series but other BMWs of the era due to chemical degradation and breakdown of the handle material accelerated by natural skin oils and sweat. There has been no recall for this issue.
BMW F30 3 Series Melting Door Handle Replacement
Replacing the melting sticky handles is one thing, but how do you ensure the same issue won't appear again? You'll face the same problem with the OEM BMW F30 door handles. Don't try to fix the issue at the dealership, as they'll install yet another defective part.
Since there is no fix for the melted rubber, removing the heat-damaged inner door handle and replacing it with a new one is unavoidable. Another option is putting a cover on top of the melted part of the handle. This is the simplest way to fix it. We'll look at door handle replacement alternatives and other ways to fix a sticky handle.
1. BMW F30 Front Left Inner Door Pull Handle Replacement
Product Overview
Replacement for part #51417279311.
Includes the entire door handle assembly.
Restores melted door handle to factory looks.
Enhanced material ensures no degradation.
This is a direct replacement and fixes the melted door handle. Although replacing the whole assembly of the door handle is time-consuming, this ensures you'll have a brand new inner pull in your car so that the problem never occurs again.
The mold is based on the F30 door handle to ensure it is precise and can withstand the force of pulling on the door. This kit also includes four installation screws needed to secure the new handle to the door. Consider that this is a replacement only for the driver's door.
Installation is simple – they will fit the vehicle perfectly, so no adapting is necessary. It snaps on without difficulty and works as a direct fit replacement.
2. BMW F30 Carbon Fiber Inner Door Handle
Quick Overview
Carbon fiber replacement for enhanced looks.
Unlike factory handles, the ABS material won't melt or become sticky under sustained high temperatures.
Includes both left and right door handle replacements.
If you currently have a sticky door handle in your F30 3 Series or F32 4 Series and want to fix the issue permanently and give the interior a personal touch, replacing the factory inner door handle with an aftermarket carbon fiber part will do exactly that.
The carbon fiber door handles are perfect if you want to give your F30 a more sporty look. This replacement door handle has a smooth premium finish that pairs well with the rest interior, especially if you have any other carbon fiber interior trim pieces.
3. BMW F30 Matte Black Door Pull Handle
Quick Overview
Matte Black texture that matches the factory door handle.
ABS ensures a long life for this door handle without stickiness or melting.
Includes both left and right door handle replacements.
For a replacement door handle cover that matches the factory one, a black one would be your best bet. This option matches the factory color for F30s with a black interior. Its ABS construction ensured that it will resist heat, skin contact, and wear and tear, unlike the stock inner pull handle.
The kit includes a complete replacement for both left and right sides, making it a straightforward upgrade with no need to cut or splice any trim pieces. Design molds based on the original parts ensure a seamless and precise fit.
If you want to stick with factory color and look throughout all your BMW F30s interior, but still want to replace your sticky pull handle, this matte black replacement is an excellent fix.
4. Beige Door Handle Replacement for BMW F30
Quick Overview
Door handle replacement for beige/white interior F30.
Direct replacement for the factory part.
Anti-stain, anti-scratch material for maximum durability.
Compatible with both F30 3 Series and F32 4 Series.
This is another factory-like cover for your melted door handle if you want to stick with OEM-like colors. The beige door handle is compatible with BMW F30 and F32 with a white or beige interior.
Anti-stain and anti-scratch materials are durable for long-term use, not to mention they won't have the issue of melting or getting sticky over time. This is due to a better outer layer that uses ABS+PC. You could wipe things clean using alcohol, but it won't bring the outer cover back to its original shine and feel. The beige inner door handle replacement is a perfect easy-to-clean solution.
Compatibility and fitment
These three options (although one of them is an outer door handle cover) are fantastic for BMW F30 vehicles. However, they may not be a perfect fit for all models. The three products listed here are a match for the BMW F30 3 Series and F32 4 Series models:
2012-2018 BMW F30 3 Series Sedan (320i, 328i, 330i, 335i, 340i).
2014-2018 BMW F32 4 Series Coupe (420i, 428i, 430i, 435i, 440i).
FAQ
1. Why do door handles melt and get sticky on the F30?
Door handles on the F30 use a subpar material mix called ABS+TPO that degrades due to heat and contact with the skin. It is a common issue not only on F30s but also on other BMWs of this era. Replacement inner door pull handles use ABS+PC, which is a different compound that resists wear and degradation better.
2. How do you fix the sticky door handle on a BMW F30 3 Series?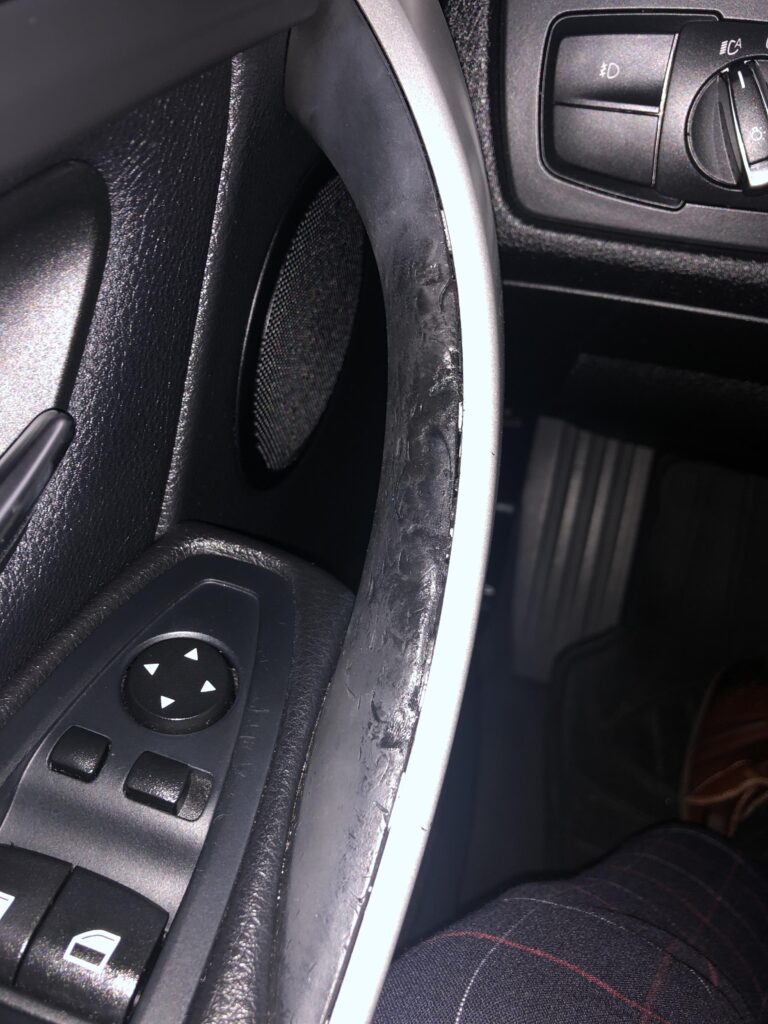 Unfortunately, there isn't a way to fix the sticky door handle issue on BMW F30 vehicles. Once the material starts melting, it stays sticky for good. You could cover the sticky part with a cloth or Velcro, but this isn't exactly a "fix."
Expect to have to perform a full inner handle replacement to solve the problem completely. As easy as the replacement process is, however, you won't be able to perform it with your bare hands.
You're going to need a few tools to adequately replace the sticky door handle without damaging or scratching the car's cabin or inner door. This means that using metal tools, such as your average screwdriver and pliers, is out of the question. Use plastic trim remover if needed. Again, do not use any metal tools.
How to replace melting door handles on a BMW F30
Remove the handle's outer part to access the inner part (or to replace the outer part).
Once the outer part is off, remove the two bolts that hold the handle in place using a screwdriver.
Now you can go ahead and remove the entire door panel. Disconnect the cables and wires by hand so that you have better access to the inner handle rivets
Using a drill, remove the plastic rivets from the inner part of the door panel.
Replace the old inner handle with the new one. Use the new screws to secure the new handle.
Finally, reinstall the door panel by backtracking through every step mentioned here.
Additional tips and recommendations
Keep in mind that the process involves using plastic tools you may not have and removing the entire door panel and the rivets. If this sounds too challenging, refer the job to a professional. That said, we think that any DIYer should be able to replace the door handle in around 20 minutes and get rid of the annoying melting handle.
Follow the instructions or the video linked above and take care every step of the way to avoid scratching interior panels – you don't want to have to replace the entire F30 door panel due to damage.