BMW's M division has made some of the best high-output mass-production engines ever. The BMW S62 engine was introduced back in 1998 for the iconic BMW E39 M5 and is mostly known for being the very first BMW V8 engine to feature variable timing or VANOS on the intake and exhaust camshafts.
The BMW S65 engine is comparably more modern as it was first revealed for the 2007 BMW E90 M3 and is known for being one of the highest-revving BMW engines with a redline of 8,400 rpm.
How does the S62 compare against the S65? In short, the S62 is an old-school V8 with a muscle car character while the S65 will happily rev very high, resembling an Italian exotic V8. Now it's time to put these two iconic BMW powertrains in a head-to-head matchup.
Read more: E39 M5 (S62 engine) vs. E90 M3 (S65 engine)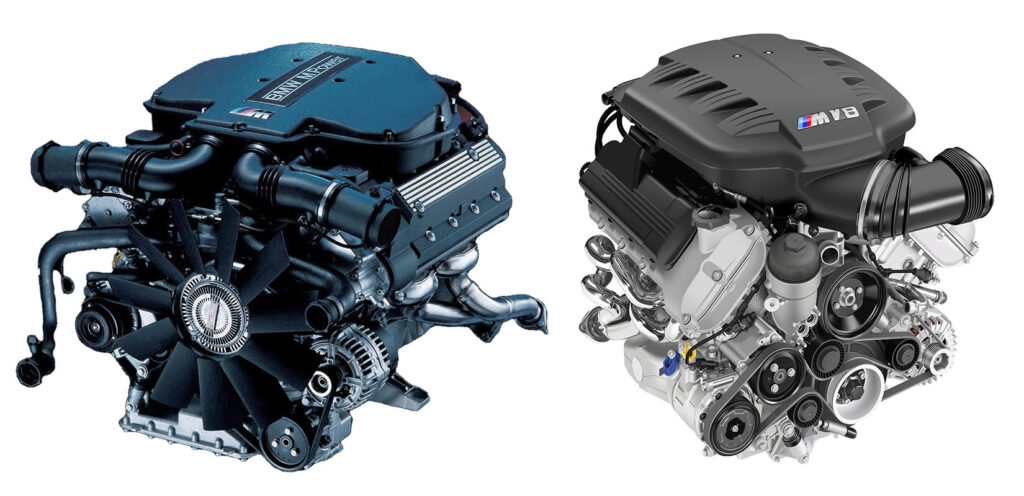 BMW S62 vs S65 Specifications
| | | |
| --- | --- | --- |
| | BMW S62 | BMW S65 |
| Stock Power & Torque | 394hp ; 369lb⋅ft | 414 hp ; 295 lb⋅ft |
| Record Horsepower | ~950hp | ~1,000hp |
| Configuration | 90° V8 | 90° V8 |
| Displacement | 4.9 L (4,941 cc) | 4.0 L (3,999 cc) |
| Compression Ratio | 11.0:1 | 12.0:1 |
| Internals | Forged steel crankshaft, forged connecting rods | Forged steel crankshaft, steel rods, aluminum pistons |
| Bore & Stroke | 94mm x 89 mm | 92 mm x 75.2 mm |
| Redline | 7,000 rpm | 8,400 rpm |
BMW S62 vs. S65: Horsepower & Torque
These two engines are quite different in how they deliver power. The S62 is a true old-school German muscle V8 engine with an abundance of low-end torque (369lb-ft) @ 3,800 rpm. On the other hand, the S65 is a high-revving engine with smaller displacement and it offers its peak torque (296lb-ft) @ 3,900rpm.
The S62 engine is based on the M62 engine found in the E39 540i which traces its roots to the BMW M60 engine launched in 1992. It is an incredibly rewarding engine as it offers a fairly linear power delivery. It isn't the quickest to rev which is somewhat understandable for such a large displacement engine and it makes it feel a bit lazier compared to the S65.
The BMW S65 feels more at home at high revs while the S62 thrives in the mid-range
The S65 is based on the also high-revving BMW S85 V10, but with two fewer cylinders. It loves to rev quickly and is at home in higher rpm ranges while the S62 feels more comfortable in the mid and low-rev ranges. As such, the S62 outputs its peak of 394 horsepower at 6,600 rpm while the S65 outputs its maximum 414 horsepower at a much higher 8,300 rpm, which is similar to flat-plane crank engines Ferrari loves to make.
BMW S62 vs. S65: Tuning & Mods
As far as tuning the BMW S62 is concerned, a quality-made exhaust manifold should be your number one upgrade as the standard manifold on the S62 is arguably its most significant restricting component. You should also consider a less restrictive intake setup along with a tune. Less restrictive cats and a free-flowing exhaust should further help with power.
The S65 responds well to cam upgrades that alter the cam profile and thus change the intake and exhaust durations, improving the powerband and peak horsepower. Higher-flow fuel injectors will help you squeeze more power out. Upgraded exhaust and an upgraded intake also make a small but noticeable difference.
A supercharger kit is the best way to increase power on both engines
If you want to get most of the power possible out of the S62 or the S65, you'll have to opt for a forced induction upgrade. Installing a supercharger kit on the S62 and the S65 is the most common upgrade and it will make a night and day difference in output.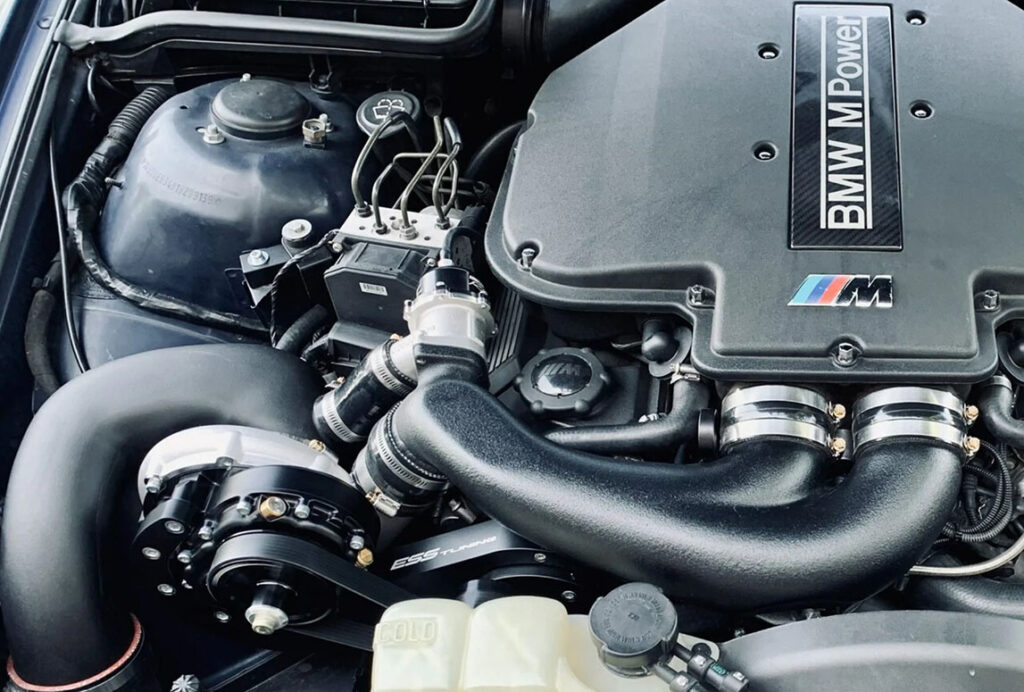 Installing a supercharger on the S62 or the S65 will cost at least $10,000 USD, but it is a needed upgrade if you want to keep up with more modern V8's. It will also improve intake noise; the supercharger whine never gets old.
Supercharging an S62 can up power to around ~625 horsepower and ~560 lb-ft of torque. On the other hand, a supercharged S65 can make around ~600 horsepower and ~400 lb-ft of torque. As we can see the S62 retains its torque advantage over the S65.
Unfortunately, modding these engines to increase isn't as cost-effective as modifying newer turbocharged BMW engines, which respond well to something as simple as a tune with no other modifications.
BMW S62 vs. S65: Exhaust Sound    
If you prefer that ground-shaking feel of an old-school high-displacement V8, you will likely prefer the S62 over the S65. On the other hand, if you love the sound of an endurance racecar, you'll immediately be drawn to the S65. The S62 with its deep muscular grumble is everything you'd expect from a BMW M5.
The BMW S65 is more unique and more special-sounding
Many people believe that the S65 is a flat-plane crank V8, but it is actually a cross-plane V8 as BMW only used flat-plane crank V8s on some of their race cars. It is the more exotic-sounding engine and is certainly more unique than the S62.
Despite your personal preference, I think we can all agree that these two engines are some of the best-sounding engines BMW has ever made.
BMW S62 vs. S65: Reliability & Maintenance
The BMW S62 is the very first BMW V8 with VANOS technology. Back then, VANOS wasn't as mature and introducing it in a high-output V8 probed to be a gamble. It increased power and efficiency but the system will eventually present issues. The good thing is that the entire VANOS system rarely fails which means that it can be rebuilt if necessary and it won't harm the engine.
The timing chain guides are also a known weak point of the S62 but should hold for more than 100,000 miles. Other than that, the S62 is a robust engine. There is a E39 M5's with an original S62 powertrain with more than 400,000 miles on the odometer. Very high mileage S62's aren't a rare sight.
The BMW S62 is more reliable; the S65 suffers from excessive rod-bearing wear
The S65 requires more maintenance than the S62. It tends to suffer from common rod bearing failures which can lead to catastrophic engine damage if left unchecked. These must be replaced every 60,000 miles or so; otherwise, your engine can fail prematurely. The throttle body actuator is also known to fail, as is the idle control valve, the valve cover & gasket, and potentially your spark plugs and coils.
Both engines love burning through oil and are also prone to leaking from the valve covers, especially on higher mileage models. If you take proper care of these engines, they will be able to serve you for hundreds of thousands of miles, but the S62 is likely to last longer without major issues.
Conclusion: S62 or S65?
Choosing between the S62 and the S65 boils down to you wanting either a more old-school muscle car-like dependable large V8 or a comparably more exotic high-revving V8 that arguably feels more emotional. The S62 is a perfect engine for the BMW M5 as it sounds powerful, confidence-inspiring, and angry.
On the other hand, the S65 is also a perfect engine for the BMW M3 which is more of a driver's car and is typically being bought by people who prefer the sensation of driving before anything else. However, we can not ignore the fact that the S62 is more reliable. Overall, the S65 is the better daily driver while the S65 is the better weekend canyon and track engine.