The BMW M5 has long been considered the pinnacle of performance sedans, combining immense power with everyday usability. The E60 M5 brought us the mighty S85, a high-revving V10 that screams all the way up to redline. Its successor, the F10 M5 changed the formula with the S63, a twin-turbo hot-vee V8 with more than enough torque to spare.
Although they both are without a doubt true M5s, their characters couldn't be any more different. Let's take an in-depth look at how the E60 M5 compares against the F10 M5.
E60 M5 vs. F10 M5 Specifications

| | E60 M5 | F10 M5 |
| --- | --- | --- |
| Dimensions | 191.1 x 72.7 x 57.8 in | 193.1 x 73.2 x 57.6 in |
| Curb Weight | 4,090 lbs (sedan) | 4,387 lbs |
| Engine | 5.0L V10 (S85) | 4.4L twin-turbo V8 (S63) |
| Horsepower | 500 hp @ 7,750 rpm | 553 hp @ 6,000–7,000 rpm |
| Torque | 384 lb-ft @ 6,100 rpm | 502 lb-ft @ 1,500–5,750 rpm |
| Transmission | 7-speed SMG III, 6-speed manual | 7-speed M DCT, 6-speed manual (US only) |
| 0-60 mph | 4.7 seconds | 4.4 seconds |
| Years Produced | 2004-2010 | 2011-2016 |
Engine & Performance: S85 vs. S63
The E60 and F10 M5s showcase vastly different powertrain philosophies. The S85 of the E60 M5 is all about high revs and an intense naturally aspirated rush, while the S63 of the F10 M5 delivers brute force with an ocean of torque available throughout its rev range.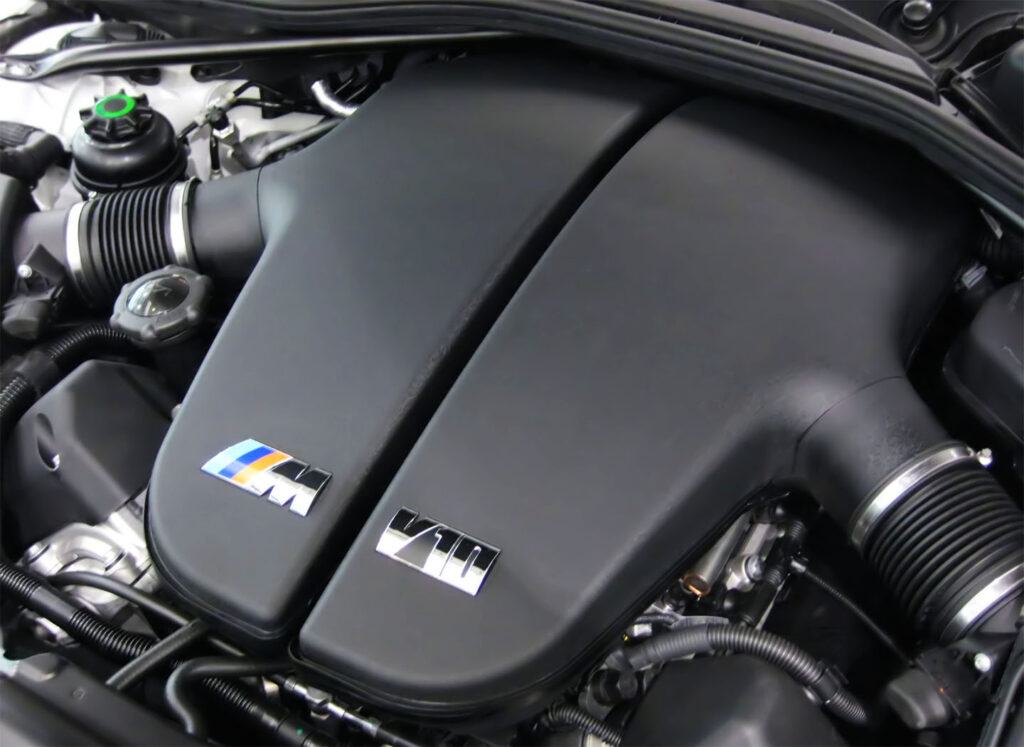 E60 M5's S85 V10: The S85B50 is naturally aspirated uneven-firing V10 engine that revs up to 8,250 RPM and produces 507 hp at a peaky 7,750 rpm and 383 lb-ft of torque at 6,100 rpm. Its performance is all about chasing that redline.
F10 M5's S63 V8: Transitioning into the turbocharged era, the F10 houses the powerful twin-turbo hot-V S63B44TU (S63TU) V8. This torque monster delivers 553 hp from 6,000-7,000 rpm and 502 lb-ft of torque from just 1,500 rpm all the way up to 5,750 rpm. While it can't match the stratospheric revs of the V10, the S63's immense low-end punch provides effortless real-world speed.
Exhaust sound
Sound plays a pivotal role in the driving experience, and here the E60 M5 steals the spotlight. Its S85 V10 engine provides a pure, raw, and intense exhaust note, echoing memories of old Formula 1 races. A true auditory delight that's hard to find in modern cars.
The F10 has its charm with pronounced V8 growl and turbo whistles and whooshes, particularly evident at lower speeds. While sonorous, it cannot match the visceral intensity of the E60. The twin-turbo setup on the S63 V8 dampens its growl, making it less raw compared to the naturally aspirated V10 or even older BMW V8s.
Both are excellent-sounding cars, but the aggressive rumble of the F10 M5 cannot match the pure V10 sound of the E60 M5.
Exhaust sound winner: E60 M5
Transmission Options: SMG, DCT & a rare 6-speed manual
Gearbox choices are vital for the driving experience. The E60 M5 came with a 7-speed SMG III (Sequential Manual Gearbox) – a rather clunky, and sometimes jerky automated manual transmission. The F10 M5, on the other hand, was equipped with a 7-speed DCT (Dual Clutch Transmission), with much faster and smoother shifts.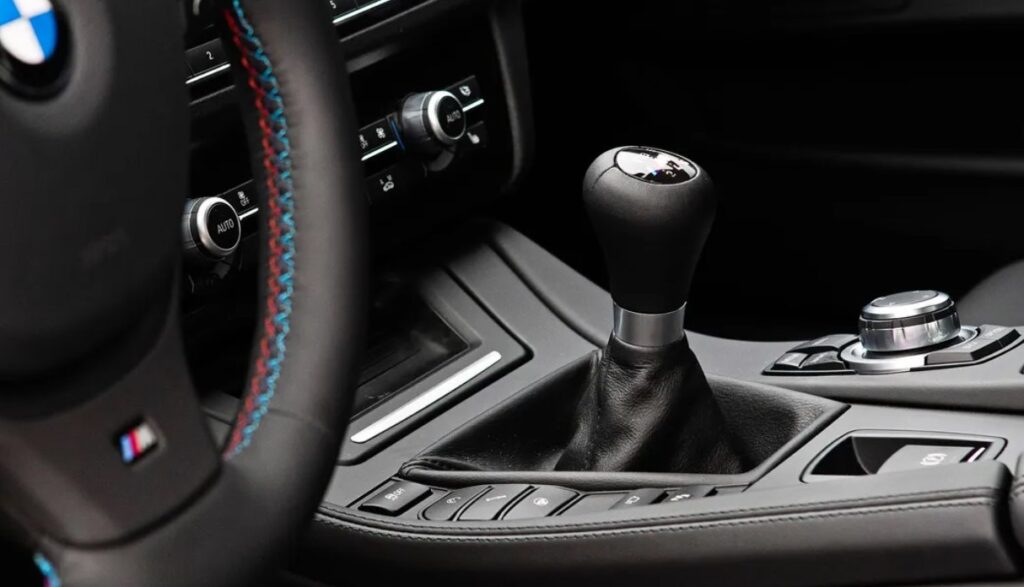 Enthusiasts who love to row their own gears had the option of a manual transmission for both, but finding one is like searching for a needle in a haystack. Few 6-speed manual transmission examples exist for both cars and are highly sought after; they were only sold to a few customers in North America.
Modifications & Tuning:
There is no doubt that the F10 M5 is a much better platform for tuning and aftermarket modifications. The NA V10 of the E60 M5 is hard to extract increased power from without bolting up a supercharger. The turbocharged V8 of the F10 M5 has a lot more headroom without even considering pricier upgrades like bigger turbos.
E60 M5 Mods
Popular modifications include intake upgrades for enhanced sound and exhaust headers for less restrictive exhaust flow. You can gain 30-50hp with the above upgrades, which isn't a lot nowadays.
To significantly increase power output, you can opt for an aftermarket supercharger kit. This is an expensive route to take but it will let you keep the linear power delivery of the S85.
F10 M5 Mods
The turbocharged S63 V8 in the F10 is a tuner's dream. Simple mods like catless downpipes, intakes, and an ECU tune can net you up to 700hp. Its DCT can also be tuned for even faster and sharper shifts. If you still want more power after the mentioned upgrades, you can opt for upgraded turbos.
Driving Experience:
The E60 M5's razor-sharp throttle response, high revving V10, and smaller footprint provide an intense, engaging experience. It's a true driver's car with a relatively nimble feel despite being a full-size sedan.
The F10 prioritizes effortless acceleration with the high torque of the S63, at the expense of driver involvement. It devours miles effortlessly but its extra heft and modern nature make it feel less visceral and engaging than the E60 M5. Its vast torque makes for effortless overtakes, making it a more practical everyday super sedan.
Interior & Comfort:
Inside, the E60 M5 presents a more driver-focused cockpit. The seats are sporty, offering excellent support during spirited driving due to automated bolstering. However, some of its controls and the center console now feel a tad dated.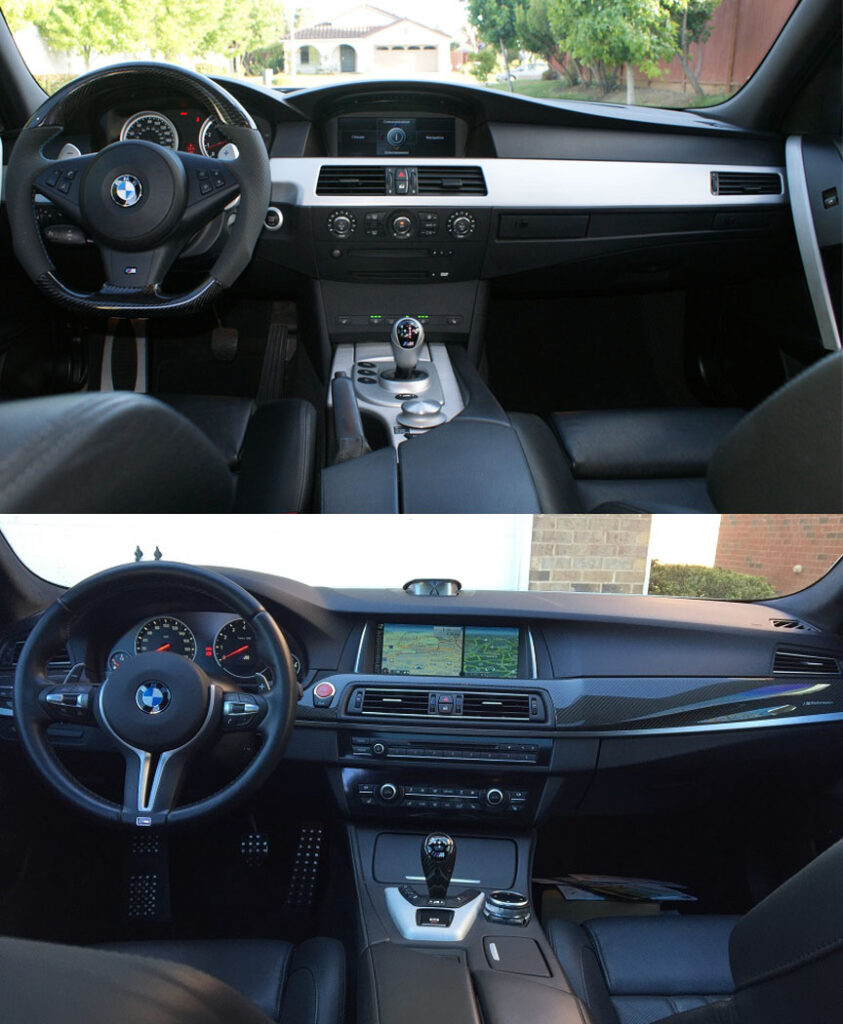 The F10 M5, in contrast, is more luxurious and spacious. There is a notable step-up in material quality, tech, and rear-seat space, catering to those who prioritize comfort alongside performance. It feels like a mini 7 Series.
Both cars offer excellent front seats, but the F10 has a superior rear passenger room.
Reliability & Maintenance: Long-term Costs
Owning a high-performance BMW isn't for the faint of heart when it comes to maintenance.
E60 M5: Renowned for its maintenance needs akin to exotics, owners need to be prepared for constant and pricey maintenance. Potential pitfalls include issues like rod bearing failures nearing 100K miles and the infamous SMG pump failures.
F10 M5: While more reliable than the E60, it's not without its quirks. Regular maintenance items include addressing oil consumption, coolant leaks, injector issues, and ignition coil replacements.
The F10's turbo V8 has proven less troublesome so far and slightly cheaper to run. But as an M5, it still has above-average maintenance requirements.
Neither of these could be considered reliable cars, but the F10 M5 has issues with less severity, and the S63TU corrected many issues. If you're looking for high reliability in a M car we recommend you opt for an M3 instead.
Conclusion: E60 M5 or F10 M5?
While the F10 M5 is superior to the E60 M5 going by pure performance figures, the E60 provides a raw, visceral experience with a last-of-its-kind V10 engine that is hard to get on any modern sedan. For those seeking ultimate performance with excellent practicality, the F10 is hard to beat.
Note that both cars demand a healthy maintenance budget and wide open roads to fully experience their performance.
If it comes down to choosing, we'd lean towards the E60 M5. A naturally aspirated V10 sedan, especially one with a manual gearbox, is a dying breed. Credit is due to BMW for continuously reimagining the performance sedan.