If you've ever driven a BMW with the iconic twin-turbo V8 S63 engine, you know that this engine is a real monster straight from the factory. However, if you deem that ~550 horsepower simply can't cut it, there are several S63 and S63TU turbo upgrade options.
When upgrading turbochargers, the S63 will need other bolt-on upgrades; we'll go through the necessary upgrades. Consider also what is your power level goal for your S63: not all turbo upgrade kits will increase the power the same way.
We will go through all the popular options and share with you their characteristics, and roughly what would be the horsepower and torque you can expect out of your BMW S63.
Turbo upgrade options for the S63 & S63TU:
1. Weistec Engineering W.4 Turbo Upgrade
The Weistec W.4 Turbo Upgrade for BMW S63 is offered by Weistec Engineering, an American aftermarket performance company specializing in European performance cars.
This kit features a complete bolt-on replacement kit for your existing setup with all the necessary accompanying hardware to install the turbos. It includes new turbo inlets that bolt right into the existing airbox (stock or aftermarket). It also includes upgraded charge pipes ready for a methanol injection kit. Custom Weistec downpipes are also included.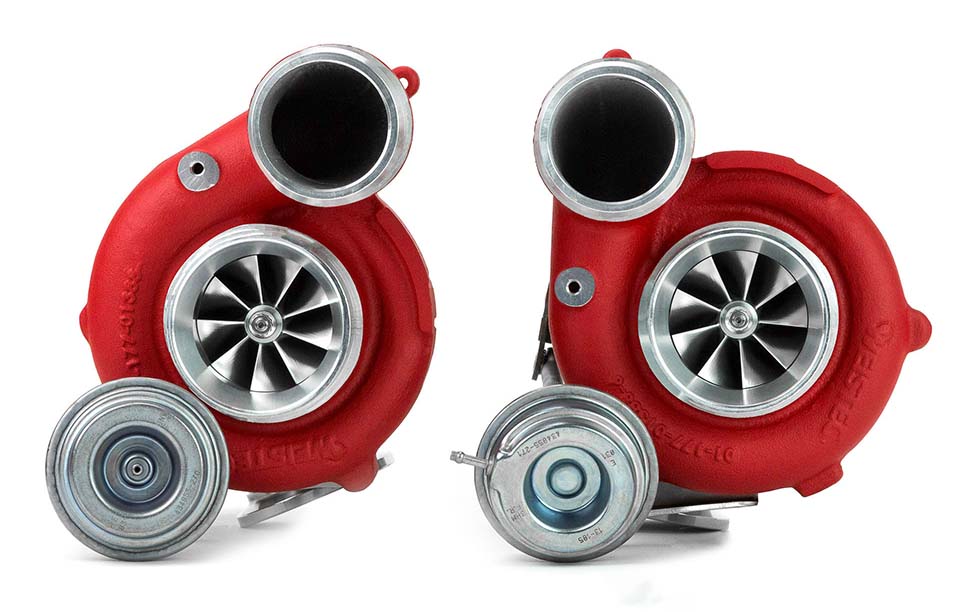 You can choose between three sizes depending on how much power you want. Additionally, you can also opt for a water/methanol injection system and anti-surge valves with this system for maximum power gains.
Overall, we consider this the best S63 turbo upgrade option as it includes other necessary upgrades all developed by Weistec to help extract the most amount of power possible out of the engine.
Overview:
Price: $12,999.00 for the GTX3071R GEN II package (+$1,000 for GTX 3076R, + $2,000 for GTX 3576R, + $2,300 for GTX 3582R)
Estimated horsepower & torque: Up to 1,000 whp & 900 wtq
Factory Turbo Housing: No
2. Pure Turbos Stage 2 Kit
An equally popular package is the Puro Turbo Stage 2 kit by Pure Turbos. This turbo upgrade package includes CNC-machined new custom turbine wheels, a custom-made billet compressor wheel, a balanced high-speed VSR, and new seals and fitment parts.
If you want to keep your existing turbos until your new units arrive, you have to pay a deposit which will be returned to you after you send in your stock turbo cores afterward.
Overview:
Price: $6,795 with a deposit, $4,995 without a deposit
Estimated horsepower & torque: Up to 900 whp & 982 wtq
Factory Turbo Housing: Yes
3. Weistec Engineering W.3 Turbo Upgrade
If you want to upgrade the existing turbocharger setup on your S63TU, you should consider this upgrade kit by Weistec Engineering. This package includes disassembling and fully inspecting the turbochargers after machining the compressor cover and the center cartridge through a CNC machine.
The benefits of this setup are that it keeps OEM parts and styling but also includes a new impeller wheel and new seals while keeping the original oil and coolant lines which makes this kit easy to install. For the best possible result, it is advisable to also go for a Weistec W.3 Turbo Specific ECU Upgrade.
Overview:
Price: $4,999
Estimated horsepower & torque: Up to 900 whp & 850 wtq
Factory Turbo Housing: Yes
4. Pure Turbos Stage 1 Turbochargers
Lastly, we are also going to mention another option made by Pure Turbos which consists of a Stage 1 upgrade package for existing S63 turbochargers. This package includes an upgraded billet compressor wheel, heavy-duty large pad thrust upgrades, and balanced high-speed VSR, and the entire package is precisely machined using a CNC machine.
This package also includes sending your existing units right after purchasing (no deposit needed) or waiting until your new units arrive (with a deposit that will be returned after receiving your existing turbos).
Overview:
Price: $4,280 with a deposit, $2,820 without a deposit
Estimated horsepower & torque: Up to 821 whp & 867 wtq
Factory Turbo Housing: Yes
F90 M5 S63B44T Turbo Upgrade
1. Got Tuned Hybrid Turbos for BMW F90 M5 S63B44T
For the F90 M5, we are going to list this factory turbocharger-based upgrade kit manufactured by Got Tuned, a Polish performance parts manufacturer which specializes in a wide variety of brands. The package includes a custom-made CNC compressor wheel made from Billet and larger turbine wheels.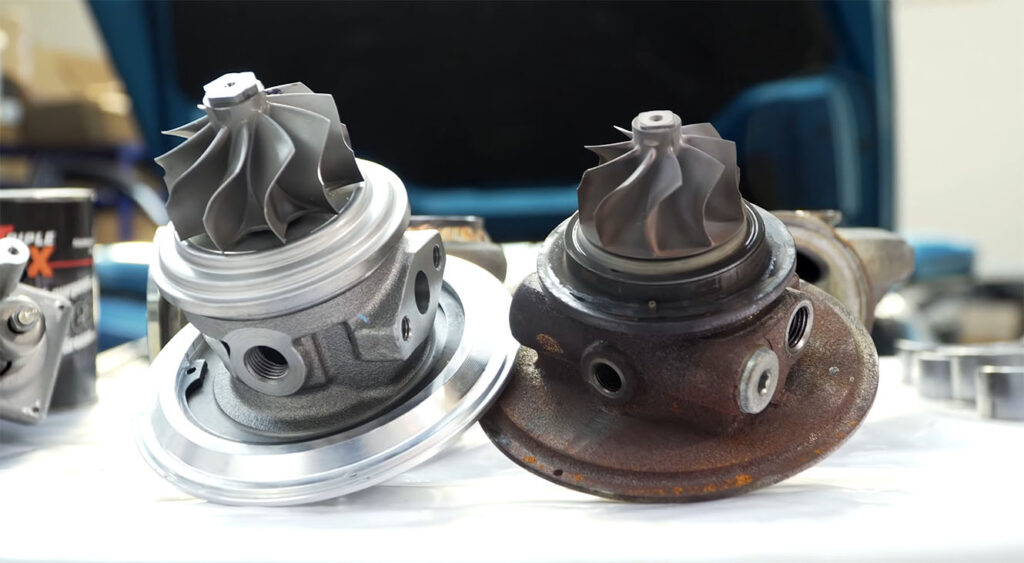 If you want the full shebang, you will also have to go for the GOTTUNED S63 +920 package which includes bigger billet blades, and a bigger but lighter 9-blade turbine wheel. This is the ultimate plug & play package for the F90 M5 which means that it is relatively easy to install.
Overview:
Price: 1,625.20€ – 6,649.59€ depending on if you want 820hp/920hp or turbo upgrade/complete turbo package
Estimated horsepower & torque: Up to 814 whp & 781 wtq
Factory Turbo Housing: Yes
Can you single-turbo a BMW S63?
While it may be technically possible to do so, it hasn't been done before for a wide variety of reasons. First of all, single turbocharging a twin-turbo engine requires you to alter the length of the exhaust manifold to a degree in which it becomes extremely complex and requires custom-made, custom-fit fabrications which inherently first need to be studied in order not to cause any issues.
This is why there are no available kits for a single-turbo BMW S63. Moreover, the exhaust manifold on the S673 is on the top of the engine which makes the entire ordeal even more complicated
As fun as a single-turbo S63 sounds, this is not something you should consider if you don't have vast experience in automotive engineering. A botched modification could cause catastrophic engine damage.
Additional Considerations When Upgrading Turbos in the S63
Upgrading your turbo setup is not just about slapping on bigger turbos and calling it a day. Your S63 will need other modifications to ensure the entire powertrain is ready to take on the increased boost and load
Stage 1 vs. Stage 2 Turbos
Stage 2 turbo mods offer more power and torque, but require additional upgraded parts. Stage 2 turbos are generally larger non-stock turbos that push the costs of getting this upgrade done. A stage 1 turbo typically relies on an upgraded stock (OEM) turbo setup.
Stage 1 turbos will top out at around ~850 wheel horsepower, and stage 2 turbos will top out at ~1100 wheel horsepower.
In our opinion, a Stage 1 turbo upgrade will most likely leave you satisfied power-wise. The S63 is no slouch to begin with. 900 horsepower on the track isn't going to make a huge difference as S63-powered BMWs tend to be heavy cars.
Stage 2 Turbo Upgrade Considerations
If you still aren't convinced and want a Stage 2 upgrade, there are a few things you should keep in mind. First of all, a 900hp+ engine will likely need built internals to be able to cope with the additional stress and load. Building the engine with stronger connecting rods, stronger pistons, refreshing the rod bearings, and rebalancing the crankshaft is recommended.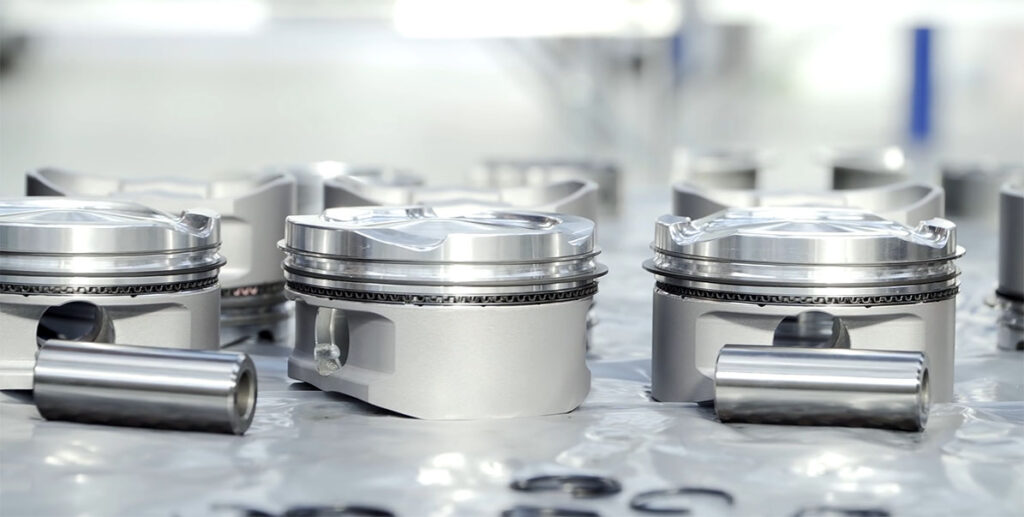 You will have to consider upgrading your rear axles as factory axles weren't intended to endure the stress of a Stage 2 tune with upgraded turbos.
Upgrading your engine mounts is also a good idea to keep the power controlled and reduce power sapping. A stiffer suspension is also recommended to help the rear wheels put the power down in a predictable manner and to help with high-speed cornering.
Supporting mods needed
ECU tune
You'll need a well-calibrated ECU tune according to the modifications and turbo kit you've installed. You can opt for an OTS tune, or you can bring your car to a reputable European tuner for a custom tune.
Catless downpipe
A catless downpipe will also be needed to make the exhaust flow freely, helping the turbos spool more in the process. It can affect the car's emissions profile and potentially lead to you not passing your emissions testing. Not having a catalytic converter on your car may be illegal depending on the jurisdiction.
Injectors
Other notable upgrades include upgraded injectors which ought to deliver fuel to your engine at a higher rate to avoid lean running conditions which can cause engine damage if left unchecked.
Upgraded cooling
An improved cooling system is a must as adding this amount of power will generate extra heat that needs to be dissipated efficiently. Consider upgrading your radiator to a bigger unit that can dissipate the extra heat that the engine will generate with larger turbochargers.
Intakes
Dual cone intakes will let the engine breathe a bit better and thus will benefit the performance in every way. An upgraded intake with less restrictive airflow will also let you hear the turbos sing even inside the cabin.
Stronger clutch, driveshaft, and axles
It's also a good idea to upgrade your clutch in order to be able to cope with the added torque while stock axles and a stock driveshaft may not last under the added stress of all that extra power.
Are these turbos compatible with any S63 BMW?
As you can see, there are a few variants of the BMW S63 engine which means that not all S63 variants are equal. The original S63 that powers the F10 M5 is compatible with most turbo upgrade kits.
On the other hand, the BMW F90 M5 and the F95 X5 M use the comparably newer S63B44T3 engine which uses different piston heads, a slightly different exhaust manifold design, slightly different turbos, and the elimination of the hot film air mass meter. This newer S63 iteration is not compatible with turbo upgrade kits for the original S63.
Related: BMW F10 M5 vs. F90 M5 comparison