The BMW B57 engine was first introduced in 2014 with the BMW G11 7-Series as a 3.0L turbo-diesel straight-six engine available for a wide variety of higher-end BMW diesel models. Even though BMW is famous for making some of the best inline-6 engines, and its diesel counterparts are just as impressive.
Is the B57 a reliable engine with good long-term reliability? Does it have any potential issues? In this article, we are going to go over all you need to know about the B57 reliability, what to look out for, and what to keep in mind.
BMW B57 engine overview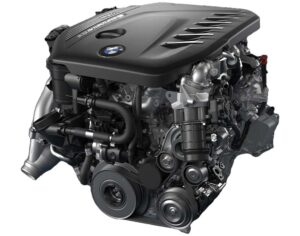 The BMW B57 engine comes in three different variants, a B57D30O0 single-turbo variant, a B57D30T0 twin-turbo variant, and a B57D30S0 quad-turbo variant. The former two models are used for 30d and 40d models while the latter is used for top-end 50d and M550d models.
This engine produces between 261hp and 394hp of horsepower and between 457lb-ft and 561lb-ft of torque. With a 500cc per cylinder layout, the B57 is part of BMW's new family of modular engines. The B57 replaces the N57 engine, another turbodiesel inline-six that produced great power but had some reliability issues.
Peak power is available between 2,000 and 2,500 rpm for the single turbo variant, between 1,750 and 2,250 rpm for the twin-turbo variant, and 2,000 and 3,000 rpm for the quad-turbo variant.
Is the B57 engine reliable?
The B57 is a complex engine all around, and complexity adds potential points of failure. Despite the up to four two-stage VNT turbochargers and an all-aluminum cylinder block construction, BMW has managed to make the B57 a reliable engine without major failure points. Four turbochargers on an engine are not something you see every day and users were rightfully worried that this could harm reliability or long-term durability, but this has not been the case.
Enthusiasts were also worried about the new piezo fuel injectors which increased the fuel injection pressure by up to 2,700 bar in an effort to boost performance and efficiency, but these don't experience issues at all.
We can't say for certain if the B57 will be as reliable as the M57 engine, but only time will tell. For now, it seems like the component of the engine that is most likely to give you any trouble will be the emission system, as these often accumulate soot and carbon.
B57 common issues
No engine is perfect, which means that even the B57 has a few items here and there that can affect your overall ownership experience. There are no widespread issues reported with the B57 yet except for all the usual issues you can expect from modern-day diesel equipped with DPF filters and similar technology:
Carbon build-up
This is an issue on almost all diesel engines. Due to the nature of diesel combustion, diesel engines like the B57 likely develop carbon build-up around the intake area or EGR valve mechanisms. To reduce this, make sure your engine gets up to operating temperature often. If carbon build-up becomes excessive, you may start experiencing driveability issues.
Emission systems failure
Another failure point are diesel emissions systems such as the DPF filter or the diesel oxidation catalytic converter. It is not an easy task for an automaker these days to make a diesel engine as big and as powerful as this one to comply with really strict Euro 6 emission standards. All these emissions systems do require maintenance, so be sure to keep an eye on that.
Turbo failure
Although turbo failure hasn't been reported on any B57 engine, turbos wear down over time and eventually need to be replaced. Some outlast the engine but that is rare. The life expectancy of turbochargers on a B57 depends on how often the oil is changed and your driving habits. The B57 has at least two turbochargers that may need to be replaced when reaching very high mileage.
How to keep the B57 reliable
If you want to keep your BMW B57 reliable, you ought to follow all the scheduled maintenance intervals as suggested by the manufacturer. These engines are designed for long-distance journeys on highways which means that the B57 should be able to stand the test of time if properly taken care of.
Bring the engine up to operating temperature
This also means that these large diesel power plants aren't designed for urban commuting and short drives as all of their emissions systems do need to reach a certain temperature before being effective. Bringing your B57 up to temperature often by taking long drives is one of the best ways to preserve the engine's longevity and dependability.
If you fail to do that, you might face these systems starting to clog which can lead to many other issues down the line. High-quality diesel is also a must for this engine, as well as using the recommended oil type.
Replace oil and coolant often
Do keep an eye on your coolant levels as diesel engine coolants can become acidic if not flushed when recommended. Lastly, be sure to replace your fuel and air filters in due time as these can also strain the engine's performance.
BMW is notorious for recommending very long intervals between oil changes. We recommend changing your oil every 6,000 to 8,000 miles for best long-term durability.
Closing thoughts
BMW diesel engines have been impressive for a few generations, and the B57 is yet another powerful, efficient, and reliable powerplant without any major issues. Keep up with oil changes, bring your engine up to temperature often, and the B57 should serve you reliably for many years.